Become a Mentor or Mentee
AHLA's Mentoring Program is available as a benefit to all members. It fosters collegiality across experience levels and the various substantive health law practice areas. This unique online networking and career development tool helps you find and connect with other AHLA members. Your mentor or mentee can be right down the street or across the country.
Join AHLA's Mentoring Program in Four Simple Steps
Complete Your Profile
Complete your profile and make sure your contact information is up to date, add a recent professional profile picture, expand on your bio, and import your education and job history information from LinkedIn. Having a complete and accurate profile is crucial to the success of selection and matching.
Enroll Into the Program
To enroll in the program, head to your Communities profile and fill out whether you want to be a mentor, mentee, seeking a mentor, or seeking a mentee
Search the Directory
Use the Mentor Program Directory to find a mentor or mentee using the search criteria listed.
Connect with Your Mentor/Mentee
To start your mentorship, simply click on the member's name that you're interested in connecting with as a mentor/mentee. The link will bring you to their profile page. If you think that person is a good fit and you would like to request a connection, click the green "Send a mentor/mentee request" button located under their profile image.
Not the right fit? Simply select the back button to return to your previous search results.
Need Help?
If you have any questions about our mentor program, contact us.
Become an AHLA Member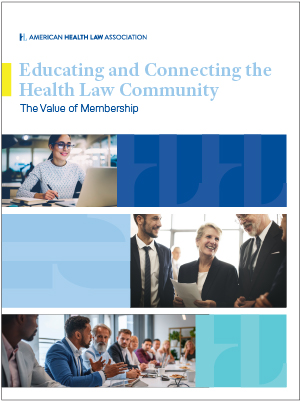 When you join AHLA, you're joining a community of health law professionals who represent the entire spectrum of the health care industry.
Use the button below to join online or download the AHLA Membership Application and mail/fax in your application. Click on the image above to view our Membership brochure.