A Home for In-House Counsel
Membership for individuals practicing in a hospital or health care system, HMO, health plan or health care insurer, or professional association setting.
Why Join the American Health Law Association
As the business of health care delivery expands, so does the need for expert legal counsel. Membership in AHLA is your professional credential that showcases your commitment to learning and understanding your profession and your craft
AHLA provides the information and resources needed to be a more effective in-house counsel. Membership in AHLA helps you build your professional network and learn from industry experts. Share your professional knowledge and exchange ideas with in-house colleagues, health care compliance experts, health lawyers, and other health law professionals from around the country.
Exclusive In-House Counsel Resources
In-House Counsel Program
This program addresses the unique issues faced by in-house counsel. Sessions are focused on practical, hands-on ways to function in these challenging day-to-day work roles and responsibilities of in-house counsel lawyers.
Health Plan Law and Compliance Institute
This program is designed specifically for in-house counsel, compliance officers at health plans, and their outside counsel and advisors. This program will provide an intensive day and a half of informative and practical education on a variety of issues and best practices. The program offers several informal networking opportunities where in-house counsel, outside counsel, and other professionals supporting health plans can meet others who face similar day-to-day issues and come up with solutions together.
In-House Counsel Practice Group
The In-House Practice Group keeps you informed on the day-to-day, practical legal issues arising from the interpretation and application of laws and regulations to the operations of health care providers, payers, regulators, manufacturers, and suppliers.
Membership Benefits Include
Email updates on current issues, events and news from AHLA.
Access to AHLA Communities that enable you to dialogue with colleagues, share best practices, and expand your professional network.
Subscription and online access to Health Law Connections, AHLA's monthly membership magazine, devoted to providing analysis of health-law related developments and trends, and reports on the professional activities of AHLA members.
Subscription and online access to:

Health Law Daily, a customized email digest providing summaries of current health law news from the major media outlets in the country
Health Law Weekly, an email news and analysis publication that offers updates on important legislative, judicial, and regulatory developments affecting health law and also provides regular bylined feature articles
Newsstand on State Health Law Issues, a weekly email newsletter that delivers a newsfeed on state health law developments.

Member discounts on AHLA-sponsored programs and webinars that suit all types of learning methods. Whether it's a foundational session or a deep dive into the latest regulatory issue affecting your clients, learn from experts in the field and apply that knowledge immediately
Member discounts on select AHLA Publication products, including core treatises and looseleaf publications like:
Ability to post and view position openings in the AHLA Career Center.
Become an AHLA Member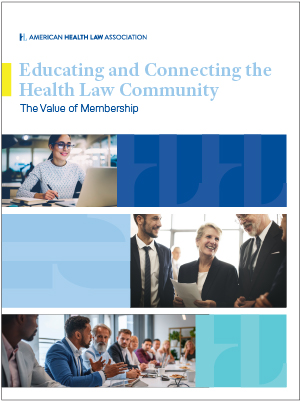 When you join AHLA, you're joining a community of health law professionals who represent the entire spectrum of the health care industry.
Use the button below to join online or download the AHLA Membership Application and mail/fax in your application. Click on the image above to view our Membership brochure.
Learn More About Membership
For more information on the benefits of joining AHLA, please see our Membership Benefits and Pricing page.