Shop Publications
​AHLA / LexisNexis® Books and eBooks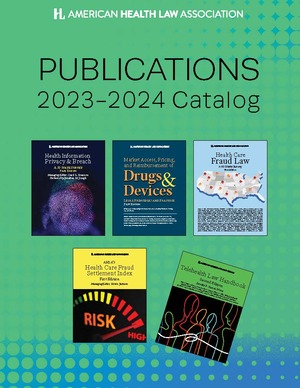 Visit our AHLA/LexisNexis® Online Bookstore or browse our catalog to choose from more than 30 titles written by expert health law practitioners who offer a unique combination of deep knowledge and practical know-how. Available in both print and digital formats, AHLA titles will help you address today's health law challenges across a broad range of subject categories:
Build the foundation of your practice with resources that will last, or add the most up-to-date references to your health law library. You may also order by phone at (800) 533-1637. AHLA member discounts apply to print and digital resources, purchased online or over the phone!
AHLA / Wolters Kluwer
AHLA has partnered with Wolters Kluwer Legal & Regulatory U.S. on a new edition of The Health Care Compliance Professional's Manual, one of the most vital, long-standing, and best known resources in the world of health care compliance. It has all the tools you and your compliance team need to plan and execute a customized compliance program. Guided by the perspectives of AHLA experts, this new edition is filled with industry best practices, sample forms, policies, procedures, and much more to save you time and comply with federal standards.
Click here for more information. AHLA members: Use the code AHLA10 for an exclusive 10% discount!
AHLA / Business Valuation Resources
Business Valuation Resources (BVR) and the AHLA partnered to bring you the newest edition of Valuing Physician Compensation and Healthcare Service Arrangements.
Edited by Timothy Smith and Mark Dietrich, this new resource combines thought leadership from 40+ top minds in healthcare compensation valuation and offers the industry's only rigorously reviewed and comprehensive body of knowledge for healthcare compensation valuation. A resource you can trust, the guide provides you with the latest ideas, concepts, methods, and techniques from the appraisal body of knowledge, while providing an alternative to reliance on physician compensation surveys to determine fair market compensation.

AHLA members save 10% - click to learn more.
Knowledge Works PDFs
Instant downloads are available on pertinent health law topics, such as: