Renew Your Membership Today
Remain a Part of a Vibrant Community of Legal Experts
As the health law landscape rapidly evolves, you need educational and community support to serve your clients and organizations. At AHLA, we are committed to providing unparalleled education and resources to help you succeed in this demanding profession.
Renewing your membership will allow you to continue to:
Stay in the Know—With subscriptions to health law's most trusted resources, including Health Law Daily and Health Law Connections, AHLA will help you stay on the cutting edge of a complex industry.
Earn Credit Online, in Person, and on Demand—Gain a competitive edge with gold-standard educational opportunities, including conferences, webinars, and on-demand programs, offering CLE, CPE, and CCB credits.
Build a Successful Network—With AHLA, you belong to a community of dedicated professionals who educate and support one another. Collaborate in Practice Groups, join the Mentoring Program, participate in online communities, and more.
Gain Credibility—Membership in AHLA signifies you are part of a community of legal and policy experts. Furthermore, leadership opportunities available within AHLA can generate significant career results.
Don't lose access to these incredible benefits. Tackle tomorrow's pressing legal issues with the best educational tools and resources for health law professionals.
Learn More About AHLA Membership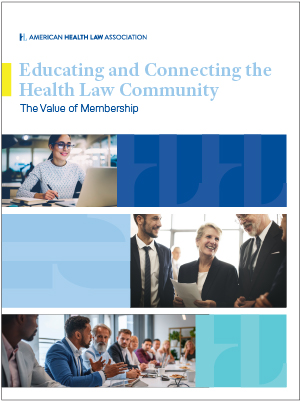 When you renew your AHLA members, you stay a part of a community of health law professionals who represent the entire spectrum of the health care industry.
Use the button below to renew online or download the AHLA Membership Application and mail/fax in your application. Click on the image above to view our Membership brochure.
Our Commitment to Accessibility
AHLA is committed to ensuring equitable access to our educational content. We are continually improving the user experience for everyone and applying the relevant accessibility standards. If you experience accessibility issues, please contact us.
Financial Hardship?
Discounted membership dues are available to any individual who expresses the need for such a discount because of a temporary financial hardship. If you require financial assistance to join or remain an AHLA member, please reach out to discuss.