Health Law Connections
Health Law Connections is the Association's monthly membership magazine devoted to providing analysis of health law related developments and trends. The magazine also reports on the professional activities of AHLA members and highlights educational and job opportunities available in the health law world.
Current Issue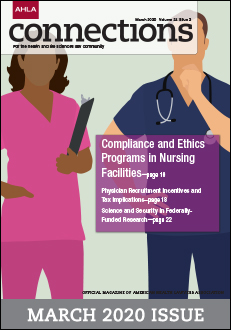 Volume 24, Issue 3 Features:
Compliance and Ethics Programs in Nursing Facilities: Overcoming Policy Uncertainty and Logistical Challenges to Build an Effective Program
Physician Recruitment Incentives and Tax Implications
Science and Security in Federally-Funded Research
Encouraging Pro Bono Engagement
Young Professionals—Not All Hours Are Created Equal: Finding Your Productivity "Einstein Window"
Women's Network—New Year, New Career: Five Self-Investment Strategies for Enhancing Your Happiness at Work
Mentoring—Never Underestimate the Power of a Mentor
Click to view issue
.
Past Issues
2020
2019
2018
2017
2016