Membership Benefits and Pricing
Engage with Leading Professionals
Engage in a community of health lawyers and health law professionals who represent the entire spectrum of the health care industry, including hospitals and hospital systems, physicians, managed care organizations, insurers, long term care facilities, home health agencies, and much more.
AHLA offers a vibrant community and practical resources to support members throughout their health law career, from students and early-career professionals, to established partners and CEOs. Furthermore, AHLA members specialize in a variety of roles that support and represent the entire health care industry including:
Compliance Officers
Finance Professionals
Health Care Consultants
Health Information Professionals
Health Lawyers
Risk Management Professionals
In-House Counsel
Paralegals
Physicians and Nurses
Privacy Officers
Public Health Officials
Regulatory Professionals
Students
Member Tools
Stay Up-to-Date on the Latest Health Law News
AHLA members have access to just-in-time news and analysis to ensure you have the knowledge you need to advise your clients and organizations on the problems facing the industry today:
Health Law Daily—digest of the most important health and legal news culled from thousands of sources and emailed daily to members.
Health Law Weekly—sent each Friday, this eNewsletter contains articles and analysis covering top stories, important case law, and federal and state legislative and regulatory developments.
AHLA's Newsstand on State Health Law Issues—tailored weekly newsfeed on state health law developments, produced in collaborative between AHLA and Lexology, that provides access to topic-specific content developed by law firms across the country.
Delve Deeper into the Latest Health Law Research and Analysis
AHLA members have access to deep-dive, thoughtful analysis on the most complex legal issues facing the health care industry to ensure you can navigate with ease:
Professional Development Resources to Keep Your Career on Track
AHLA members don't just receive the highest quality health law content, they also receive access to professional development resources, setting them up to make their next career move:
Connect and Expand Your Network
AHLA members join a network of health law professionals who are always there to help, educate, and build lasting professionals friendships:
Member Directory—exclusive access to connect with fellow members and leaders.
Connection Center—online communities that enable members to connect with colleagues who have similar interests or work settings.
Mentoring Program—connects members with specific skills, knowledge, or background (mentors) with individuals (mentees) who desire a trusted adviser, role model, or guide to help navigate their career journey.
Save Time and Money
AHLA members save time and money across the benefits that come with membership:
Member Discounts—receive exclusive member discounts on AHLA programs, trainings, webinars, on-demand education, treatises, and the Health Law Archive (discounts vary by membership level).
The Diversity Movement—Leverage a variety of educational DEI resources, including microlearning content, digital learning courses, consulting services, and more.
Become an AHLA Member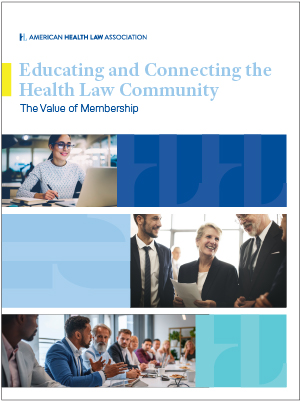 When you join AHLA, you're joining a community of health law professionals who represent the entire spectrum of the health care industry.
Use the button below to join online or download the AHLA Membership Application and mail/fax in your application. Click on the image above to view our Membership brochure.
Our Commitment to Accessibility
AHLA is committed to ensuring equitable access to our educational content. We are continually improving the user experience for everyone and applying the relevant accessibility standards. If you experience accessibility issues, please contact us.
Financial Hardship?
Discounted membership dues are available to any individual who expresses the need for such a discount because of a temporary financial hardship. If you require financial assistance to join or remain an AHLA member, please reach out to discuss.