Membership Benefits and Pricing
Members share a commitment to health law, specialize in a variety of roles that support and represent the entire spectrum of the health care industry, and are leaders in their profession. AHLA offers a vibrant community and practical resources to support you throughout your career, whether a student, early career professional, paralegal, compliance professional, privacy officer, law firm partner, health care consultant, or executive.
Stay in the Know
AHLA members have access to just-in-time health law news and analysis to ensure you have the knowledge needed to advise your clients, organizations, and students on the problems facing the industry today:
Delve Deeper into the Latest Health Law Research and Analysis
AHLA members have access to deep-dive, thoughtful analysis on the most complex legal issues facing the health care industry to ensure you can navigate with ease:
Advance Inclusion, Diversity, Equity, and Accessibility
Members can take advantage of partnerships AHLA has with both The Diversity Movement and Ablr. To learn more about member discounts your company or organization can benefit from, visit the AHLA IDEA Partnership page.
Accelerate Your Career
AHLA members receive access to professional development resources, setting them up to make their next career move:
Connect and Expand Your Network
AHLA members belong to a community of health law professionals who educate and support one another.
Save Time and Money
Pick the Benefits That Are Right for You
Membership Levels
Access to Member Resources
All Access Pass
Limited
Basic

Annual Member Dues

Premium Membership: $525

Enhanced Membership: $400

Full Membership: $300

Member Publications and E-Newlsetters with essential health law news updates

• Health Law Daily
• Health Law Weekly
• Newsstand on State Health Law Issues

✓

✓

✓

Practice Group(s) of your choice
All Access Pass

2 Practice Groups

1 Practice Group

Live Webinars* with CLE and CPE
All Access Pass

One Free (Member Discount thereafter)

Member Discount: ($50 savings)

Health Law Archive—a vast database of health law knowledge, searching more than 30,000 documents from AHLA
All Access Pass

Member-only Add-on Available

Member-only Add-on Available

Discounts on in-person and virtual programs
Deeper Discount ($275 total savings)

Additional Discount ($225 total savings)

Member Discount ($175 savings)

Treatises and other publications, on-demand products (recorded webinars, ePrograms, etc.), and other products

Member Discount

Member Discount

Member Discount

AHLA Communities discussion groups

✓

✓

✓
* Benefit refers to live webinars only and does not include on-demand products (recorded webinars, ePrograms, etc.).
Note: Receive $50 off your Full or Enhanced membership when you are an academician, in-house counsel, paralegal, solo practitioner or work in the public sector (non-profit legal service or legal advocacy organization; federal, state or local government work setting; or public health organization or agency).
Become an AHLA Member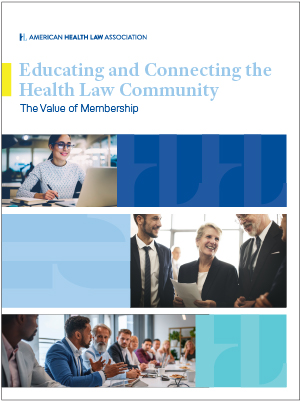 When you join AHLA, you're joining a community of health law professionals who represent the entire spectrum of the health care industry.
Use the button below to join online or download the AHLA Membership Application and mail/fax in your application. Click on the image above to view our Membership brochure.
Our Commitment to Accessibility
AHLA is committed to ensuring equitable access to our educational content. We are continually improving the user experience for everyone and applying the relevant accessibility standards. If you experience accessibility issues, please contact us.
Financial Hardship?
Discounted membership dues are available to any individual who expresses the need for such a discount because of a temporary financial hardship. If you require financial assistance to join or remain an AHLA member, please reach out to discuss.