Tax Issues for Health Care Organizations 2022
Resource Center
Featured Titles
Build your health law library with AHLA. Registered attendees can access exclusive discounts—be sure to check your attendee emails for the discount code!
Complimentary Resources
As an AHLA member or program attendee, you gain access to a wealth of complimentary resources to help you solve the most challenging problems facing the health care industry.
Become an AHLA Member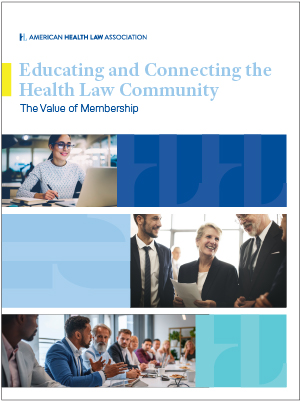 When you join AHLA, you're joining a community of health law professionals who represent the entire spectrum of the health care industry.
Use the button below to join online or download the AHLA Membership Application and mail/fax in your application. Click on the image above to view our Membership brochure.
Have a Question?
We're here to help! Click on a topic below to send us an email with your inquiry:
Thank You to Our Tax Issues for Health Care Organizations Sponsors
If your organization is interested in sponsoring AHLA's Tax Issues for Health Care Organizations program, please contact Valerie Eshleman.