Annual Meeting
June 26-28, 2023 | San Francisco Marriott Marquis, San Francisco, CA
Keynote Speaker
Keynote Address: Prioritizing Mental Health Parity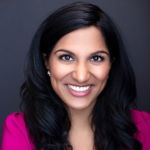 Nina Vasan, MD, MBA
Clinical Assistant Professor, Stanford School of Medicine, Psychiatry and Behavioral Sciences
Founder & Executive Director, Brainstorm: The Stanford Lab for Mental Health Innovation
About the Annual Meeting
Attending AHLA's Annual Meeting will provide you with the most current information and in-depth analysis on a myriad of issues facing your health care clients and institutions. Whether it's through attending a session on a topic new to you, diving deeper into your areas of expertise, or networking with colleagues, you will gain new insights and hear practical solutions for addressing legal, regulatory, and operational issues facing the health care industry.
Thank You to Our Supporting Organizations

Thank You to Our Program Sponsors

If your organization is interested in sponsoring AHLA's Annual Meeting, please contact Valerie Eshleman.