Vaccine Mandates in the Health Care Workplace
A Legal Analysis for Employers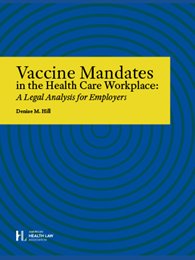 An indispensable examination of laws related to vaccine mandates, providing guidance to health care employers, stakeholders, and the attorneys and staff who advise them. This instant PDF download is for anyone grappling with the right of health care employers to mandate COVID-19 vaccination of their workers.
To purchase, click below and log in (top right button). If you do not have an AHLA account, simply Create an Account on the proceeding page (top right button) and then you can purchase the publication.
Special Non-Member Rate: $79
Member: $59
Analysis Includes
Practical checklists on vaccine mandate policy considerations and key issues for organization decision-making
Employers' authority to mandate vaccination as well as health and safety obligations
Preparing for potential COVID-19 liability and lawsuits
Reasonable accommodation issues such as disability and religion
Overcoming employees' vaccination hesitancy
Federal law and guidance from agencies overseeing employers' legal rights and responsibilities regarding employee vaccination, including the Occupational Safety and Health Administration (OSHA), the Centers for Disease Control and Prevention (CDC), the Equal Employment Opportunity Commission (EEOC), and the Food and Drug Administration (FDA)
Future trends and recommendations
Factors Employers Should Consider—A Conversation with the Author
Brian Dean Abramson, author of Vaccine, Vaccination, and Immunization Law, speaks to Denise M. Hill, Associate Professor of Practice in Public Administration at Drake University and author of Vaccine Mandates in the Health Care Workplace: A Legal Analysis for Employers, about the factors employers should consider when deciding whether to implement vaccine mandates at their workplaces. They discuss how to structure a vaccine mandate that accounts for employees who don't want to be vaccinated, the impact of recent case law and state actions, and ways to engage with vaccine hesitancy.

+Listen to the Podcast
Table of Contents
Executive Summary
Introduction
Overview of Key Legal Issues

Constitutional Authority for Public Vaccine Mandates
Public Vaccination Orders During an Outbreak
Balancing Scientific and Constitutional Factors
School Vaccine Mandates
Legal Authority for Mandatory COVID-19 Public Health Measures
Constitutional Challenges to COVID-19 Orders
The Role of Vaccination in Meeting Organizations' Health and Safety Obligations
Duty to Provide a Safe and Healthy Workplace
Mandatory Vaccination of Health Care Personnel
Employers' Authority to Mandate Vaccination
Employer Discretion Re: Terms and Conditions of Work
Federal Law and Guidance
OSHA and Employer COVID-19 Vaccination Requirements
OSHA COVID-19 Guidance
CDC and Employer COVID-19 Vaccination Requirements
EEOC and Employer COVID-19 Vaccination Requirements
Vaccine Exemptions Based on Disability
Vaccine Exemptions Based on Religion
Reasonable Accommodations for Vaccine Mandates
FDA and Employer COVID-19 Mandates
FDA Emergency Use Authorization and COVID-19
Analysis of Employer COVID-19 Vaccine Mandate Issues
State Vaccination Laws
State Laws and Bills Banning Vaccine Mandates
COVID-19 Employer Liability and Lawsuits

The Current Environment

Impacts of COVID-19, the Ongoing Pandemic and Uncertainty
Vaccine Hesitancy
Reasons for Vaccine Hesitancy
Reasons for COVID-19 Vaccine Hesitancy
Mixed Messages
Politicization of Public Health and Conspiracy Movements
Prior Negative Experiences and Legacy of Public Mistrust
Swine Flu Mass Vaccination
Smallpox Vaccination (2003)
The Pharmacuetical Industry

Trends for the Immediate Future and Recommendations to Clients

Short Term COVID-19 Trends
Legal and Regulatory Trends
FDA
OSHA
EEOC
CMS
Unions and the NLRB
The Importance of Practical Long-Term Vaccine Policy Thinking and Planning
Recommendations to Clients Regarding Vaccine Initiatives
Employers Can Change Course on Vaccination Mandates

Practice Tips and Tools

COVID-19 Vaccine Health Care Organization Decision Making Checklist
COVID-19 Vaccine Mandate Policy Considerations
Conclusion
---
Denise M. Hill, has over 25 years of legal, policy, and mediation experience. She is a fulltime Associate Professor of Practice in Public Administration at Drake University and continues to practice health and employment law with the Whitfield & Eddy law firm in Des Moines, Iowa. Previously, Denise was the Director of Health Law Programs at Drake Law School; was an Associate Professor in the Colleges of Medicine, Podiatry, and Health Sciences at Des Moines University; and also taught for the University of Iowa's Executive MHA program. In addition to her work in private practice and academia, Denise was an Attorney/Manager of Public & Regulatory Affairs with the Iowa Medical Society and a State of Iowa labor relations attorney.
How to Access Your Knowledge Works PDF
Once you have purchased your publication, visit the My Dashboard page of the Education Center to download/print your publication. If you have any questions or cannot find your download, please email us at [email protected].
Shop Knowledge Works PDFs
Instant downloads are available on pertinent health law topics, such as: