New Public Interest Resource Addresses Telemedicine
---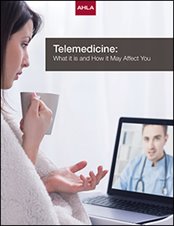 The American Health Law Association (AHLA) is pleased to announce the release of Telemedicine: What It Is and How It May Affect You. This new Public Interest Guidebook helps patients better understand what telemedicine is, how it can help improve delivery of health care, how a patient can access telemedicine services, the risks and benefits of using telemedicine services, and how health insurance generally treats telemedicine services in terms of coverage.
"Consumers can now access health care and interact with their doctors remotely," says AHLA President Charlene L. McGinty. "This resource provides consumers with information on the types of telemedicine services available as well as the associated advantages and risks."
Telemedicine refers to the remote diagnosis and treatment of patients using a telecommunications technology. With the demand for health services growing disproportionately to the supply, accessing necessary health care services can often be difficult, especially for those who have limited mobility or when the frequency of required follow-up visits might pose logistical challenges for the patient. Telemedicine technologies can lessen these burdens and expand access to health care by allowing patients to interact directly and in real time with their provider using technology from their home or from a convenient provider setting.
AHLA is proud to provide this useful resource as part of our Public Interest mission, made possible through the generous donations of AHLA members.