An Invisible Epidemic: Navigating Mental Health Issues in the Employment Relationship
AHLA thanks the leaders of the Labor and Employment Practice Group for contributing this feature article.
Kathleen D. Parker

, K&L Gates LLP

Erinn L. Rigney

, K&L Gates LLP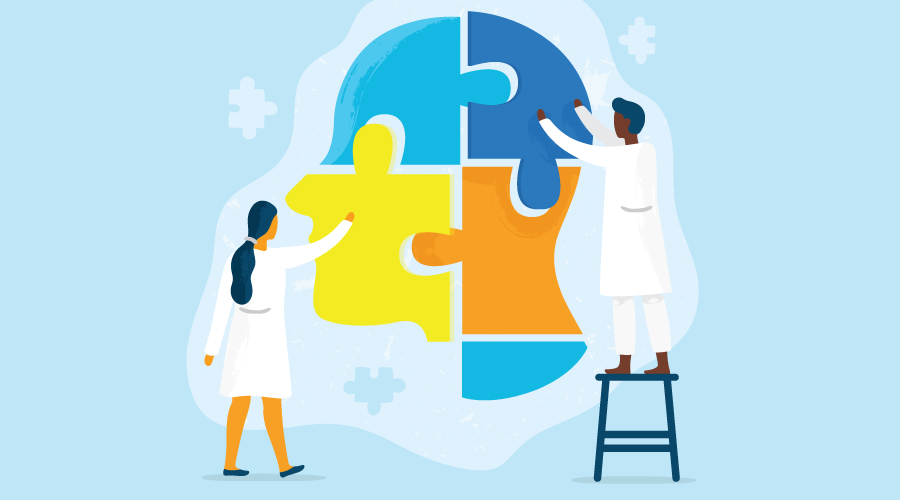 ---
The COVID-19 pandemic has caused a sharp increase in mental health issues, including depression, stress, anxiety, obsessive-compulsive disorder, alcoholism, and substance abuse. Although the world is learning to live with the physical effects of COVID-19, many people continue to grapple with the mental health conditions the pandemic has triggered or exacerbated. For health care workers, many of whom have been on the COVID-19 frontlines since little was known about the virus, personal protective equipment was scarce, and temporary morgues were required, COVID-19 is or will be a key contributor to their long-term mental health issues.
Although mental illnesses continue to be misunderstood and stigmatized, discussions about mental health have recently become more common, including at the highest level of government. For example, in March 2022, President Biden devoted a segment of his first State of the Union address to the mental health crisis and specifically focused on the mental well-being of health care workers. Among other things, the President highlighted his signing of the Dr. Lorna Breen Health Care Provider Protection Act into law, which "will invest $135 million over three years into training health care providers on suicide prevention and behavioral health while launching an awareness campaign to address stigmatization, promote help-seeking and self-care among this workforce."1
Public discourse about mental health is becoming increasingly normalized, including in the workplace, but many employees continue to be reluctant to discuss their mental health challenges with employers or seek workplace accommodations. However, the invisible mental health epidemic caused by living through two years of a global pandemic will make addressing mental illness in the workplace essential to employee retention and productivity, especially in the health care industry. This article addresses important considerations from both the employee and employer perspectives relating to mental health conditions and the workplace, with a focus on the health care industry, including mental health-related reasonable accommodations and employee well-being.
Overview of Mental Health Issues in the Health Care Industry
Though there are many definitions of "mental health condition," the National Alliance on Mental Illness defines the term as "a medical condition that disrupts a person's thinking, feeling, mood, ability to relate to others, and daily functioning."2 It further explains, "[j]ust as diabetes is a disorder of the pancreas, mental illnesses are medical conditions that often result in a diminished capacity for coping with the ordinary demands of life."3 Numerous studies have found that the COVID-19 pandemic caused a staggering increase in mental health conditions. For example, a report published by the Centers for Disease Control and Prevention (CDC) found "[e]levated levels of adverse mental health conditions, substance use, and suicidal ideation . . . reported by adults in the United States in June 2020," as compared to prior years.4 Specifically,
[t]he prevalence of symptoms of anxiety disorder was approximately three times those reported in the second quarter of 2019 (25.5% versus 8.1%), and prevalence of depressive disorder was approximately four times that reported in the second quarter of 2019 (24.3% versus 6.5%). However, given the methodological differences and potential unknown biases in survey designs, this analysis might not be directly comparable with data reported on anxiety and depression disorders in 2019. Approximately one quarter of respondents reported symptoms of a [trauma- and stressor-related disorder] TSRD related to the pandemic, and approximately one in 10 reported that they started or increased substance use because of COVID-19. Suicidal ideation was also elevated; approximately twice as many respondents reported serious consideration of suicide in the previous 30 days than did adults in the United States in 2018, referring to the previous 12 months (10.7% versus 4.3%).5
For health care workers whose jobs already presented mental health challenges due to regularly being involved in stressful and emotional situations, being exposed to human suffering, death, and hazardous working conditions, and being subject to long and unpredictable schedules,6 COVID-19 magnified and exacerbated mental health issues to the point of creating symptoms similar to those attributed to post-traumatic stress disorder (PTSD).7 For example, a 2020 Mental Health America study found that "[h]ealthcare workers were most likely to report that they had increases in emotional exhaustion in the last three months (82 percent)[,] . . followed by trouble with sleep (70 percent), physical exhaustion (68 percent), and work-related dread (63 percent)."8 The study further found that "[o]ver half of healthcare workers also reported experiencing changes in appetite (57 percent), physical symptoms like headache or stomachache (56 percent), questioning their career path (55 percent), compassion fatigue (52 percent), and heightened awareness, worry or attention to being exposed (52 percent)."9
COVID-19's effect on health care employees' mental health is not limited to frontline workers. According to a survey of public health workers conducted by the CDC in March–April of 2021, "52.8% reported symptoms of at least one mental health condition in the preceding 2 weeks, including depression (30.8%), anxiety (30.3%), PTSD (36.8%), or suicidal ideation (8.4%)."10 These studies and surveys only scratch the surface of the devastating effects COVID-19 has had on health care workers who were already facing a mental health crisis leading up to the pandemic.
As the nation's mental health crisis worsens, health care workers across the industry are experiencing burnout, stress, anxiety, and other conditions that are affecting the workplace. As a result, employers are facing increased requests for mental health-related accommodations, as well as charges of discrimination based on mental illness. For the past decade, charges of discrimination based on an underlying mental health condition have been steadily increasing. Based on charge processing data from the U.S. Equal Employment Opportunity Commission (EEOC), in 2021, allegations based on mental health discrimination accounted for about 30% of charges under the Americans with Disabilities Act (ADA), which represented an increase from the 20% a decade earlier. More specifically, in the prior five years, charges based on anxiety increased from 7.6% to 11.6% and those based on PTSD increased from 4.2% to 6.0%. Overall, in 2021, anxiety accounted for 38% of mental health disorder charges while depression accounted for 25% and PTSD for 20%.11
Addressing Mental Health Issues in the Workplace
Workplace Health Promotion Programs
The U.S. Department of Labor (DOL) has explained that "[w]orkplace practices inclusive of people with disabilities—whether they happen to be obvious to the eye or not—can deliver numerous bottom-line advantages, including greater productivity, reduced insurance costs, and improved employee retention and morale."12 Employers in the health care industry (and all other industries) should include mental health when creating or improving their disability practices and policies, especially given the competitive job market. Employers should first focus on fostering a mental health-friendly work culture, which can be accomplished in many ways. For example, employers can encourage open and honest discussions with employees about mental health, make support networks available to employees, offer incentives to reinforce behavior that improves mental health, host seminars or workshops that address depression and stress management, offer health insurance that covers mental health services and medication, and provide managers with training to help them recognize the signs and symptoms of mental illness.13 This not only helps health care employers combat the stigma associated with mental health issues, but it provides employees with services they might not be able to get outside the workplace due to the current shortage of mental health professionals.14
Overview of Legal Protections for Employees
Accommodations
When most employers think of an employee with a disability, they tend to focus on a physical condition that limits the employee's ability to perform essential functions of a job, such as limited mobility or difficulty hearing or seeing. This narrow view of what constitutes a disability under the law leaves employees with mental health issues, who may not present with obvious physical symptoms, facing skepticism when seeking an accommodation. In addition to this lack of understanding on the employer side, many employees may not be aware that their mental health condition could qualify as a disability that entitles them to a reasonable accommodation and gives them protection against discrimination under federal, state, and in some cases, local law.
The primary federal law that extends protections to employees with mental health conditions is the ADA.15 Passed in 1990, the ADA applies to employers with 15 or more employees, and generally makes it unlawful to discriminate, harass, or retaliate against a qualified individual with a disability. Under the ADA, employers must reasonably accommodate a qualified individual with a disability unless doing so would cause an undue hardship on the employer. In addition, most states and many municipalities have legislation that prohibits disability-related discrimination regardless of the employer's size.16 These laws largely track and typically protect employees with disabilities in a manner similar to the ADA, although some define disability even more broadly.17
The ADA18 does not enumerate the specific medical conditions that constitute a disability. Rather, the law defines "disability" to mean "a physical or mental impairment that substantially limits one or more major life activities, a record of such an impairment, or is regarded as having an impairment."19 Indeed, in 2008 the ADA was amended to provide that "disability" should be interpreted broadly and without extensive analysis.20 The amendment also updated the ADA's definition of "disability" explicitly to include people with psychiatric disabilities or records of such disabilities.21 Therefore, it is essential that employers understand the extensive scope of the ADA's protections—the law covers mental health conditions in the same way it covers physical health conditions, the law protects people with a history of an actual disability or who are regarded as having a disability, in the same way as those with an actual disability (physical or mental impairment that substantially limits a major life activity).22 Employers often misunderstand the true scope of the ADA, as they improperly focus on physical, obvious disabilities, which can lead to legal issues.
One common error employers make when it comes to employees' mental impairments is failing to recognize an employee's request for an accommodation. Relatedly, employers struggle to identify a workable accommodation for a mental disability. For example, an employee may request an accommodation because they are experiencing stress or anxiety. Under the ADA, stress or anxiety may not always qualify as a disability. However, if the stress or anxiety limits one or more major life activity (for example, the person cannot sleep, concentrate, or care for themselves), it could qualify as a disability under the ADA. Because identifying and understanding an employee's disability—especially a mental impairment—can be difficult, where necessary, employers can request additional information, such as documentation from the employee's health care provider to determine whether an ADA (or state law equivalent) disability is present.23 This documentation can also help the employer identify a reasonable accommodation, such as allowing the employee to telecommute, providing additional leave to seek treatment, giving more frequent breaks throughout the day, moving the employee's workspace to a quiet location without distractions, or providing the employee with additional training.24
Another error employers may make when it comes to mental disabilities is failing to recognize an employee's new or worsening mental health issues. For example, an employee may have suffered from mental health issues for many years but never exhibited or even hinted at any mental health challenges and never required an accommodation, but now does need an accommodation because the issues have been exacerbated or triggered by the pandemic. In fact, the EEOC's pandemic guidance expressly notes that "employees with certain preexisting mental health conditions, for example, anxiety disorder, obsessive-compulsive disorder, or post-traumatic stress disorder, may have more difficulty handling the disruption to daily life that has accompanied the COVID-19 pandemic."25 Therefore, employees who did not require any accommodation pre-pandemic, may now be eligible, and employers must recognize this and respond appropriately.
Mental health-related protection under the ADA is further complicated when it comes to substance abuse and alcoholism. The ADA does not protect employees who are currently using illegal drugs and does not require an employer to allow employees to be under the influence of alcohol or illegal drugs while on the job.26 However, employees who are recovering from or have a history of alcoholism or drug addiction may be entitled to a form of reasonable accommodation, such as a modified schedule or leave to obtain treatment.27
Evaluating Reasonable Accommodation Requests
In evaluating an accommodation request for an employee with a mental health condition, an employer may require documentation about the disability and the functional limitations from an appropriate health care professional including a doctor, psychiatrist, psychologist, nurse, or licensed mental health professional.28 When requesting such documentation, employers should specify what types of information they are seeking regarding the disability, its functional limitations, and the need for a reasonable accommodation. All information received by an employer during the interactive process should be maintained confidentially and separate from an employee's personnel file.29
Once an employer has determined that an employee has a disability, it must provide a reasonable accommodation unless it can demonstrate undue hardship. As noted above, such reasonable accommodations for a mental health condition may include "altered break and work schedules (e.g., scheduling work around medical appointments [or side effects of medication]), time off for treatment,30 changes in supervisory methods (e.g., providing written instructions, or breaking tasks into smaller parts), eliminating a non-essential (or marginal) job function that someone cannot perform because of a disability, and telework."31 If there is no reasonable accommodation that will allow the employee to be physically present to perform the current job, the employer must consider if remote work is an option for that particular job as an accommodation and, as a last resort, whether reassignment32 to another position is possible. Employers should recognize that many of the accommodations for employees with mental health conditions may be relatively easy to implement and may not require a significant change to operations. For example, the DOL's Job Accommodation Network offers significant resources on addressing mental health conditions in the workplace and provides suggested accommodations.33
Undue Hardship Analysis
Under the ADA, employers must offer an available accommodation if one exists that does not pose an undue hardship, meaning a significant difficulty or expense.34 A determination of undue hardship should be based on several factors, including the nature and cost of the accommodation; the overall financial resources, size, number of employees, and type and location of facilities of the employer; the type of operation of the employer, including the structure and functions of the workforce and the administrative or fiscal relationship of the facility involved in making the accommodation to the employer; and the impact of the accommodation on the operation of the facility.35 An employer cannot claim undue hardship based on other employees', customers', or patients' fears, biases, or prejudices toward the individual's disability,36 which more commonly occurs for mental health disabilities, especially in health care. Moreover, an employer may not base undue hardship on the fact that a reasonable accommodation might negatively affect employee morale.37 To the extent an accommodation may unreasonably disrupt other employees' ability to perform work, an employer may be able to establish undue hardship.
Employers should prepare for an increase in the number of accommodation requests based on an underlying mental health condition, especially for frontline workers as well as those who will be returning to the workplace after a significant period of remote working. Regardless of the type or number of requests, employers should adhere to their standard accommodation procedures, understanding that the interactive process may transpire differently for employees with mental health conditions. To start, employers should ensure that employees with mental health conditions have access to the same accommodation process, and that there is no stigma with respect to seeking out an accommodation. As with all reasonable accommodation requests, the diagnosis or medical condition underlying a disability must be maintained as a confidential medical record under the ADA. Employers should be cognizant of the stigma associated with mental health conditions and ensure that personnel responsible for handling accommodation requests maintain the confidentiality of the underlying diagnosis.
Best Practices for Employers
As health care employers continue to navigate the increased presence of mental health concerns in the workplace, there are many proactive steps they can take to create a workplace that is accommodating and free of harassment. Specifically, employers should consider doing the following:
Promote Mental Health Resources
Employers should provide employees with access to mental health resources. For example, the DOL's Office of Disability Employment Policy identifies a number of resources to help ensure that disability-related policies and practices in the workplace take into consideration the needs of people with mental health conditions.38 As with other workplace benefits, employers should highlight these types of resources, as well as Employee Assistance Programs, for employees though polices, newsletters, and messaging.
Evaluate Accommodation and Anti-Harassment Policies
Employers should ensure that their policies addressing harassment, discrimination, retaliation, and accommodation are up to date and expressly reference protection for employees with mental health conditions. These policies should be included in employee handbooks and be made accessible to employees on the intranet or other portals.
Combat the Negative Stigma Associated with Mental Health Conditions in Health Care
Managers and supervisors should communicate with employees about the importance of mental health, especially in the health care industry, and direct them to resources at work and in the community. Further, health care employers should be conscious of the language that they use when addressing mental health in the workplace to avoid further stigmatizing workers. Finally, human resources and other management professionals should treat mental health conditions in the same manner as a physical disability. By having management emphasize the importance of mental health, employees will be empowered to address mental health concerns before they negatively impact the workplace.
Train Managers and Human Resources Professionals on Addressing Mental Health Issues
Consider training and programming to educate employees about mental health issues and foster a supportive workplace for employees who may be facing mental health issues.39 Employers should disseminate information about the signs of common mental health conditions such as anxiety, depression, and PTSD. Encourage employees to check in with one another and be aware of changes in their and their coworkers' behavior.
Conclusion
Though this crisis may seem invisible to the naked eye, many employees are suffering from mental health conditions while at work. As employers navigate these typically "unseen" issues, there are tangible actions they can take to address mental health concerns in the workplace and reverse the stigma associated with such conditions in the health care industry.
---
Kathleen D. Parker is a partner in K&L Gates LLP's Boston office, where she is a member of the labor, employment & workplace safety practice group. Kathleen focuses her practice on counseling international and domestic businesses on various employment issues, including preparing and revising internal policies, navigating pre- and post-employment relationships, and properly classifying employees and contractors. She also regularly conducts discrimination and harassment prevention training for corporate clients, represents businesses in civil and administrative employment litigation matters, and conducts internal employment investigations on behalf of her clients. Kathleen is dedicated to working with her clients to achieve their business goals while ensuring compliance with constantly evolving employment laws.
Erinn L. Rigney is a partner in K&L Gates LLP's Chicago office, where she is a member of the labor, employment & workplace safety practice group. Erinn focuses her practice on counseling and advising clients on compliance with federal, state, and local antidiscrimination laws in conjunction with various employment actions; the provision of reasonable accommodations; compliance with the Fair Labor Standards Act and state wage and hours laws; and implementation of workplace policies and employee handbooks for both unionized and nonunionized employers, in addition to developing and leading anti-harassment training sessions for clients' workforces. Erinn has significant experience addressing the various employment issues that arise in the health care space, including the interpretation and application of employment laws in conjunction with health care regulations; drafting master services agreements for large and small health care systems; implementing policies on the protection of proprietary information and trade secrets; and advising on employment compliance issues arising in mergers and acquisitions for hospitals and biotechnology companies.
---
AHLA would like to thank the leaders of the Labor and Employment Practice Group for contributing this feature article: Elissa Taub, Siskind Susser PC (Chair); Jenna Brofsky, Husch Blackwell LLP (Vice Chair—Education); Tiffany Buckley-Norwood, Trinity Health (Vice Chair—Education); Dee Anna Hays, Ogletree Deakins (Vice Chair—Education); Gary McLaughlin, Mitchell Silberberg & Knupp LLP (Vice Chair—Education); and David Lindsay, K & L Gates LLP (Vice Chair—Member Engagement).
---
ARTICLE TAGS