AHLA Wins 2020 American Web Design Award from Graphic Design USA
---
WASHINGTON, DC (JUNE 16, 2020)— Graphic Design USA honors AHLA with the 2020 American Web Design Award as part of its 57th Anniversary awards program and 20th annual American Design AwardsTM. Entries rose to nearly two thousand – a record – with a highly selective top 10 percent of entries recognized as a winner.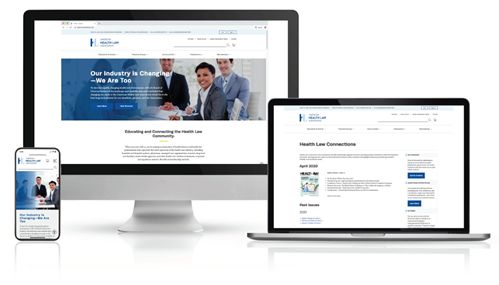 "We are thrilled that our new website, a key component of our 2020 rebrand, has been recognized by our peers as deserving this designation," remarks Mary Boutsikaris, AHLA's Creative Director. "And, I'd like to thank Jen Smith, our Graphic Designer, for her help and support during this rebrand process–we could not have done it without her!"
"Our in-house graphics team was able to work with our web vendor, Blue Modus, and rebrand consultants, Beekeeper Group, to ensure the design resonated with our key stakeholders," adds Stefan Bradham, AHLA's Senior Director of Marketing and Communications. "We continue to receive positive feedback from members on the rebrand and we look forward to continuing efforts with both vendors to further the brand and our reach to ensure we deliver on AHLA's member value proposition."
###
About Graphic Design USA:
Graphic Design USA (GDUSA) has been a business-to-business information source for graphic design professionals and covers news, people, project, trends, technology, products and services. The GDUSA brand now includes a 100,000 visitor-a-month website, a monthly e-newsletter, a digital version of the magazine formatted for desktop, tablet and phones, and several national design competitions that culminate in Annuals showcasing the best in Graphic Design, Inhouse Design, Web Design, Package Design, Healthcare Design, and Digital Design. For more information, visit http://gdusa.com/.
About Blue Modus:
Founded in 2001, BlueModus, Inc. is a technology agency based in Denver, Colorado, with offices across the United States and Canada. We are a team of strategists, creatives and technologists, driven by a passion for building digital brands and immersive experiences that span web, device and media channels. We provide full-service business and Web enablement solutions and services in support of our clients' digital initiatives. BlueModus designs, develops and maintains complex, large-scale solutions, using leading .NET platforms such as Kentico, Sitecore and Sitefinity. Our projects include responsive websites, intranets, and extranets; custom apps; mobile sites and apps; closed loop marketing, and content management, data management, and e-CRM systems. For more information, visit https://bluemodus.com/.
About Beekeeper Group:
Beekeeper Group is a public affairs agency specializing in communications, advocacy, and digital marketing services. We serve clients in the association, nonprofit, and corporate sectors. Our team, led by, Alex Dickinson, Vanessa French, and Casey Kincheloe oversaw the transformation of the new AHLA brand, tagline, and website design. For more information, visit https://www.beekeepergroup.com/.