Introduction to COVID-19 Research's Impact on Clinical Trials
AHLA thanks the leaders of the Hospitals and Health Systems Practice Group for contributing this feature article.
Andrea Wever

, deLemos & Wever

Genevieve deLemos

, deLemos & Wever

Neerja Razdan

, Bass Berry & Sims PLC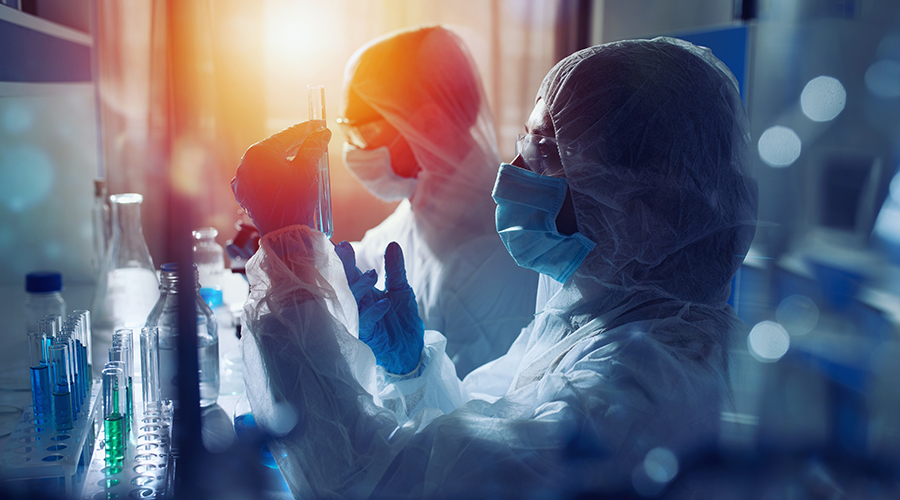 ---
Are the vaccines safe? Do I need a booster? Will the vaccine prevent me from becoming ill? The research behind these frequently asked questions continues to evolve and will have a lasting impact even after the end of the current pandemic.
Almost two years after the initial human cases of novel coronavirus 2019 (COVID-19) were identified, the world is slowly adjusting to a new normal. This adjustment is in large part due to the millions of hours and billions of dollars devoted to COVID-19 research, which began almost simultaneously with the first known cases and will continue for decades to come. The initial urgency to stand up clinical trials in order to diagnose, treat, and prevent COVID-19 may have subsided, but the implications of these studies will remain. Short-term impacts on research include the large number of new sites participating in research, some with less experienced principal investigators (PIs) and staff; increased diversity of subjects; and rapid approval of study drugs as therapeutic options for care. In the frenzied months of the pandemic, some PIs, such as those in the critical care area, were managing busy clinical loads from full intensive care units and suddenly found themselves in charge of multiple clinical research studies.
As research in COVID-19 exploded, existing non-COVID-19 research was pushed down in priority. Some research staff were quickly pivoted to support COVID-19 research. The question of how, and whether, existing studies could continue dominated research operations for months. Hospital research departments quickly developed committees to prioritize research studies, and even stopped some non-COVID-19 research projects altogether as people stayed at home. Virtual study visits, including, but not limited to, screening, consenting, routine visits, and monitoring by sponsors and the Food and Drug Administration (FDA) had to be operationalized and actualized in a short time period to prevent disruption of ongoing research activities. Research collaborations between investigators in different countries, data sharing agreements, and material transfer agreements were also taking place to ensure the rapid sharing of information, knowledge, and specimens. This flurry of research activity was taking place while most were instructed to stay at home or faced working with limited personal protective equipment (PPE), presenting unknown risks to study staff (and their families) as they were responsible for standing up and running these critical studies.
While many of the acute and intense changes that COVID-19 brought forward in the early stages of the pandemic have faded, several remain. Long-term impacts on research resulting from the COVID-19 research that are likely to stay include a focus on diversity in enrollment, participation in clinical trials by less experienced sites, and the use of the FDA Emergency Use Authorization (EUA) process. To those participating in any field of research: take heed.
Diversity in Clinical Trials
The disproportionate impact COVID-19 continues to have on racial, ethnic, and underserved minorities brought to light a longstanding deficiency of diversity in clinical trials. The underrepresentation of certain groups of research subjects is found in all demographics, including, but not limited to, gender, race, age, ethnicity, and socioeconomic status, and has been a long-recognized issue1 in clinical trials. Ideally, trial participation reflects a diverse population or targeted demographic, which allows for data that is representative and meaningful across gender, race, ethnicity, and age. In addition, participation and representation in research naturally leads to increased trust of studies and clinical treatments may be more broadly and confidently applied. The lack of diversity in clinical trials, coupled with worse COVID-19 outcomes for Black patients or other patients of color, underscores the importance of diverse participation in clinical trials.
The lack of participation by many minority groups is caused by a variety of factors and results in less robust data and an overall sense of distrust that persists into clinical treatments. "In the USA, minority racial and ethnic groups comprise nearly 40% of the population; however, 75% of the 32,000 participants in the trials of 53 novel drugs approved in 2020 by the US Food and Drug Administration (FDA) were White."2 For example, vaccine trial data from the past decade show a wide underrepresentation of Black, Latinx, Native/American Indian, and those aged 65 and older, while White and adult women were overrepresented in these trials.3 These same groups have traditionally had lower vaccination rates than the White population. The safety and efficacy of these vaccines, therefore, is effectively skewed towards a White population under 65 that is predominantly female—not reflective of the population at large.4 Not only does lack of representation result in skewed safety and efficacy, in some cases, the lack of diversity in clinical trials results in worse outcomes for underrepresented communities.5
One reason for low enrolment in clinical trials is a lack of trust in the scientific community. Structural racism and resulting health inequities of a system largely created and run by White physicians and scientists impacts health care and research, with a clear underrepresentation of minorities as health care providers and PIs.6 The scientific community often cites Henrietta Lacks and the Tuskegee airmen as examples of deeply disturbing research performed without patient consent7 as a source for this understandable distrust.8 As a result in part of this abuse of power and lack of informed consent, many minority groups distrust the health care system and do not participate in clinical trials. Further, distrust in medicine may lead patients in underserved communities to seek treatment later in the course of an illness, which results in worse outcomes.
The effects of this historic distrust have been glaring in managing the multitude of research and treatment issues arising during the COVID-19 pandemic. Increasing community engagement, developing minority PIs, and empowering potential participants with knowledge and understanding of the importance of research to resolving race-based disparities are only the first steps towards meaningful increases in participant diversity in clinical trials. The pandemic shone a much brighter and broader light on these disparities, educating the public and prompting many institutions to actively seek to address these disparities through the steps described above.
While lower participation rates by racial and ethnic minorities are multi-factorial, the solutions are multi-faceted and continuously evolving. Participation in trials is often driven by clinician recommendation to a patient, a conversation potentially hampered by time constraints, lack of awareness of trials or affiliation with a trial site, and overall communication tactics/care plans that do not include research.9 Lack of access to trial sites also can be a barrier to participation. Community health centers and smaller practices that serve racial and ethnic minorities may not have access to the resources required to provide clinical trials as research departments in Academic Medical Centers (AMCs) often run at a financial loss to the organization. Many federal studies take place at AMCs located in large, more urban areas. In addition to geographical barriers, potential participants may face practical barriers such as transportation, work and childcare restraints around longer appointments that require additional time for research, and technology limitations. While there are understandable reasons for this site selection—including assistance meeting trial recruitment targets; trained, sophisticated research staff and experienced PIs; existing relationships and collaborations with other academic centers and access to shared resources—engaging smaller community providers and health centers and continuing to use telemedicine in clinical trials would increase the volume and diversity of potential study subjects in a meaningful way.
COVID-19, which disproportionately impacts certain racial and ethnic communities in both morbidity and mortality rates,10 laid bare these enduring inequalities and demanded fast action by the research community to address these gaps to properly develop vaccines and treatments globally. The disproportionate impact was notable: in New York, 14% of the population is Black, but accounted for 21% of the deaths due to COVID-19. In North Dakota and Wyoming, respectively 5% and 2% of the population are American Indian or Alaska Native, but resulted in 9% and 6% of deaths.11 Unified and unprecedented attention on diversity in COVID-19 vaccine trials from the media, government, clinicians, researchers, and community members resulted in concrete efforts by Pfizer and Moderna to increase participation by minority communities with improvements across most groups.12 Enrollment was slowed at one point to improve minority participation, and non-traditional study sites, including Historically Black Colleges and Universities (HBCUs) and smaller community health centers, were stood up to target a more diverse population of subjects.
The attention and concern expressed by the many research stakeholders and the public during the pandemic had a meaningful impact on recruitment and participation in the Pfizer and Moderna vaccine trials. The scientific community must continue to ensure this focus does not fade as the world emerges from the pandemic. The Centers for Disease Control and Prevention,13 the FDA,14 and the National Institutes of Health15 have increased efforts and emphasized the importance around increasing the diversity of study participants, developing public education campaigns, and providing training material for trial site staff members, as well as government-funded agencies.16 Commercial sponsors have also increased focus on recruitment and retention of traditionally underrepresented communities in clinical trials.17 Federal and state governments, pharma and biotech sponsors, community leaders, health care providers, and patients themselves must continue efforts to remove health and social justice inequities, including advancing diverse enrollment in clinical trials. The results will be more complete and informative research, a better safety and efficacy profile, and, ultimately, better clinical care for all patients.
New Principal Investigators
One of the less discussed, but very real, challenges of the pandemic for front-line workers was the role of clinicians with little to no experience in research suddenly running one or more clinical trials while balancing overflowing clinical patient loads. During the early days of the pandemic, hospitals and academic centers across the globe were the epicenter of the fight against COVID-19, pushing health care providers to the brink physically, mentally, and emotionally. Clinicians were faced with unprecedented numbers of patients with a novel and unpredictable virus and no known treatments, which necessarily led to standing up multiple clinical trials in a short period of time. These trials were often the sole therapeutic options for patients. In order to provide treatment, many clinicians served as PIs to one or more COVID-19 studies, regardless of their experience or comfort level with research.
The large number of trials for potential therapeutics, protocols, and devices in turn demanded a proportional number of PIs and research staff. Running multiple trials with various protocols, consents, interventions, labs, vitals, etc. is difficult for a well-resourced, experienced research program without the added stress of a pandemic and staff shortages. As a result, many PIs found themselves too busy to properly oversee studies, ensure all obligations to sponsors were met, and appropriately monitor participants.
As the frenzy of the initial days of the pandemic fades, many research programs are cleaning up and reassessing what research should look like going forward, and who wants to participate. Research pivoted towards COVID-19 impressively and effectively, and many lessons regarding rapid redeployment of resources and personnel will be absorbed into the regular operations of a program. A serious outcome for many programs is assessing which clinicians want to serve as PIs and ensuring that the PIs in turn have the proper mentorship, training, and support to serve in that role effectively. A useful exercise for many programs is to develop a policy regarding who can serve as a PI, including training and education requirements that go beyond Collaborative Institutional Training Initiative training status. For PIs with less experience, this could include providing a formal or informal mentorship program to allow development and understanding of a PI's role.
While the pandemic challenged the nation's health care system in an unprecedented manner, it also served as a catalyst for research in many ways. Engaging and encouraging those who previously might not have had the time or interest to participate as PIs or as other research collaborators will only serve to improve the diversity of research—in demographic makeup, thought, and geography. Many programs that previously had limited research areas with a finite number of investigators may now find an increased interest in participation, and the time to leverage that interest is now.
Post-COVID-19 Compliance and Regulatory Considerations
With the large outlay of funds available and the speed of research taking place because of COVID-19, federal agencies are reviewing how that funding was used and whether regulatory requirements were met. Several cases already have been brought against providers for misuse of funds in the clinical space. Federal enforcement for the misuse of grant funds is on the rise and this trend will certainly continue considering the large amount of federal funding institutions have received to research and support COVID-19-related projects. Research institutions should ensure that federal funding they received was used appropriately and that such use was adequately documented. Research compliance officers may want to conduct internal audits of studies that used federal funding to identify and correct any errors that may have occurred.
The reliance on the EUA process during the COVID-19 pandemic will likely impact the FDA regulatory approval process long after the pandemic is over. The Pandemic and All-Hazards Preparedness Reauthorization Act of 2013 (PAHPRA) grants authority for the FDA to issue EUAs for public health, military, and domestic emergencies involving chemical, biological, radiological, and nuclear agents, including infectious disease threats such as pandemics.18 Medical countermeasures (MCMs) include drugs, biological products, and devices. EUAs are a mechanism to facilitate the availability and use of MCMs during public health emergencies (or other declared events under PAHPRA) that have a significant potential to affect national security or the health and security of U.S. citizens. This process allows the use of unapproved diagnostic tests, therapeutics, and vaccines to prevent or treat life-threatening diseases when certain statutory criteria have been met. The intent of the statute is to allow the FDA much greater flexibility to respond to exigent conditions.
EUA is a lower standard for a product to meet than the full approval process requires—namely, if "it is reasonable to believe that . . . the product may be effective."19 Full approval requires that the drug or biologic is "safe and effective" and there is "substantial evidence" that the drug will have the effect it is intended to have.20 The FDA assesses the potential effectiveness of a possible EUA product on a case-by-case basis using a risk-benefit analysis. In response to the pandemic, the EUA process allowed some drugs to be used clinically with little controlled trial data.21 Generally, the EUA process still looks at large numbers of clinical trial data, and the FDA reviews manufacturing information to ensure quality and consistency. The FDA continues to monitor safety data after the EUA is issued and will terminate the EUA if it later determines that the product is not safe or ineffective for its intended use.
EUAs streamline the regulatory approval process. While there is less data and less time has passed than the full approval process, the EUA process still applies regulatory rigor and requires the potential benefits to outweigh the potential risks. The EUA process contemplates "pre-EUA activities,"22 which require/encourage the applicant to work closely with the FDA to determine what information the FDA will need to issue the EUA. This allows the FDA to maintain control while expediting the process. Since the COVID-19 public health emergency was declared, new products have gone from the bench to use under an EUA to approved status. Large amounts of data have been collected, which the FDA can analyze to gauge how well the EUA process worked. If it determines that a more tailored approach does not increase the risks of adverse events, then the FDA may change certain processes to allow some products to follow a path devised during the EUA process.
---
As former in-house counsel at a large health care system, Andrea Wever has extensive experience advising on the full scope of legal and regulatory matters pertaining to the conduct of research and other sponsored programs. Andrea's in-house experience and her deep understanding of research and compliance allow her to provide practical advice to clients in a way that is understandable and easy to implement. Andrea is a founding partner of the research compliance firm deLemos & Wever.
Genevieve deLemos served as the Research Compliance Officer at Atrium Health, where she managed a variety of compliance, regulatory, and operational issues. Prior to Atrium, she served as in-house counsel for Genzyme Corporation, where she was responsible for investigations related to compliance issues and health care fraud and abuse. As a founding partner of deLemos & Wever, she enjoys providing tailored and practical compliance support to a variety of partners engaging in clinical research.
Neerja Razdan is an associate with Bass Berry & Sims PLC in the Memphis office. Neerja relies on her in-house experience to provide regulatory, compliance, and transactional support to hospitals and health systems and various other health care providers. She counsels on issues related to the Anti-Kickback Statute, physician self-referrals (Stark Law), health care marketing rules, corporate compliance, and other related matters. In addition, she provides advice on implementing policies and procedures in connection with compliance with Corporate Integrity Agreements. Prior to joining the firm, Neerja served as associate counsel at two large medical systems, each with an academic and research component.
*The authors thank Clint Hermes, Counsel at Bass Berry & Sims PLC, for serving as editor of this article.
---
AHLA thanks the leaders of the Hospitals and Health Systems Practice Group for contributing this feature article: Ritu Cooper, Hall Render Killian Heath & Lyman PC (Chair); Abraham Richlin, Prime Healthcare Services Inc (Vice Chair—Education: Programming); Julia Tamulis, Bass Berry & Sims PLC (Vice Chair—Education: Programming); Neerja Razdan, Bass Berry & Sims PLC (Vice Chair—Education: Publishing); Jamie Whitney, Adelanto HealthCare Ventures LLC (Vice Chair—Education: Publishing); and Kimberly Ruark, BakerHostetler (Vice Chair—Member Engagement).
---
ARTICLE TAGS