The Emergence of COVID-19 in America and Its Significant Effect on the SNF Industry
AHLA thanks the leaders of the Post-Acute and Long Term Services Practice Group for contributing this feature article.
William Hopkins

, Spencer Fane LLP

Rochelle Sandell

, Los Angeles County Department of Public Health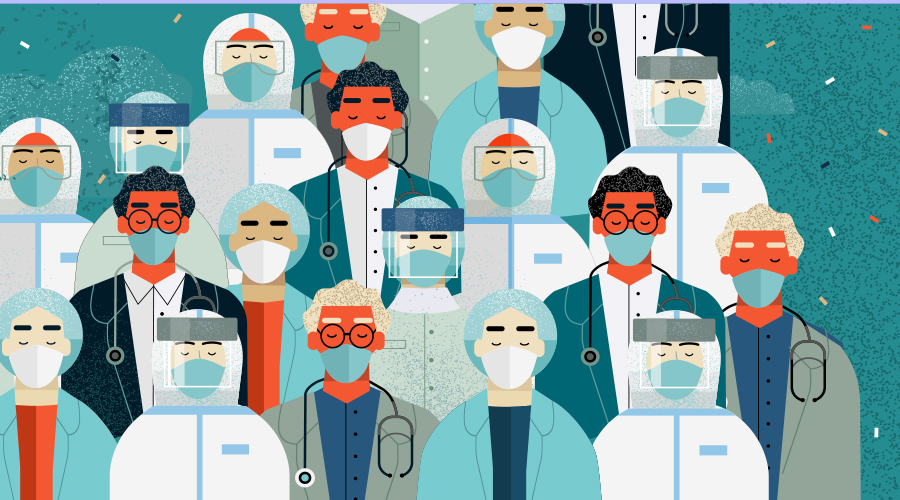 ---
There is nothing that has impacted the entirety of American society, as well as the health care industry, like the COVID-19 pandemic. This pandemic has tested and challenged every aspect of how we live, work, socialize, and provide and seek health care. While much has been written about the health care industry's response to COVID-19, this article focuses on the pandemic's effects on the U.S. skilled nursing facility (SNF) population, as well as the regulatory landscape during the initial months of the pandemic.
For perspective regarding the relative effects of COVID-19, the U.S. long term care population is less than 1% of the general population, yet accounts for almost 34% of the deaths resulting from COVID-19.1 Since the first COVID-19 infections were detected in the United States, more than 500,000 Americans have died. Given the emergence of variants to the original virus, when this pandemic will be under control remains uncertain.
The first COVID-19 outbreak in a skilled nursing home was identified in Kirkland, WA on February 29, 2020, after some residents earlier in the month were sick with what appeared to be a surge of influenza.2 According to reports, beginning in mid-February, the facility had experienced a cluster of febrile (fever-based) respiratory illnesses.3 Under county law, the facility was required to report a suspected flu outbreak to local public health authorities within 24 hours. On February 27, 2020, Life Care of Kirkland provided notice to the county of an "increase in respiratory illness."4 It was later discovered that approximately 17 days earlier, the same facility had discouraged visits to the facility based on health concerns.5
As of March 18, 2020, a total of 167 confirmed cases of COVID-19 affecting 101 residents, 50 health care personnel, and 16 visitors were found to be epidemiologically linked to the Kirkland facility,6 which drew widespread media attention as the epicenter of the outbreak.7 At that time, a total of 30 long term care facilities with at least one confirmed case of COVID-19 had been identified in King County, where the Kirkland facility was located.8
The deadly outbreak at this facility was the first time the Centers for Medicare & Medicaid Services (CMS) mobilized a federal response to COVID-19. Given the unprecedented nature of this pandemic, CMS had no playbook to utilize in evaluating the facility's actions in preventing the initial outbreak or mitigating the spread. Based on an investigation survey and its findings, CMS alleged Kirkland violated federal standards and requirements for nursing home facilities and imposed civil money penalties in the amount of $611,000.9 Life Care appealed and sought an expedited hearing by the Departmental Appeals Board to contest the allegations, but that request was denied.10 A contested case hearing is set for April 2021 before an Administrative Law Judge (ALJ).
At the state level, the Washington health department issued a stop placement of admissions order and conditions on the facility's license. Life Care appealed. A state ALJ held the department abused its discretion in issuing the stop placement order.11 The state ALJ concluded that the department failed to present sufficient evidence that the facility violated state rules on physician services, infection control, general administration, medical director, clinical records, quality assessment, and assurance and quality of care.12 The ALJ did find some violations of state regulations that justified the conditions imposed on the facility's license.13
Significant for other SNF providers that may be facing similar allegations was the state ALJ's finding that "the Department seems to have reasoned that, because the outcome was tragic, [Life Care] must have failed to adequately care for their patients; this idea is based on hindsight."14 This hindsight effect is common in nursing home cases and an argument that providers facing similar allegations should consider.
Following the outbreak at Life Care, the Centers for Disease Control and Prevention (CDC) initiated surveys and investigations of all long term care facilities in Washington with evidence of a cluster of respiratory illnesses.15 Based on the data gathered and analyzed, the long term care facilities were prioritized by risk for COVID-19 introduction and spread. Highest-priority facilities were visited by response personnel and for emergency on-site testing and infection control assessments, support, and training.16
Information received from the survey and on-site visits identified factors that likely contributed to the vulnerability of these facilities, including : (1) staff members who worked while symptomatic; (2) staff members who worked in more than one facility; (3) inadequate familiarity and adherence to standard droplet, contact precautions, and eye protection recommendations; (4) challenges to implementing infection control practices including inadequate supplies of personal protective equipment (PPE) and other items (e.g., alcohol-based hand sanitizer); and (5) delayed recognition of cases because of low index of suspicion, limited testing availability, and difficulty identifying persons with COVID-19 based on signs and symptoms alone.17
Why Focus on SNFs?
The reason to focus on SNFs and long term care in general is simple: the demographics of the U.S. population are shifting to an increasingly older age bracket,18 which will significantly affect how heath care is delivered and financed. According to recent projections, by 2030, all baby boomers will be older than age 65, marking the first time in U.S. history that older people outnumber children.19 Notably, in the United States, approximately 80% of all persons aged >65 years have at least one chronic condition, and 50% have at least two.20 The rapid growth in the number of older persons, coupled with continued advances in medical technology, is expected to create upward pressure on health and long term care spending.21
Based on these realties, the health care industry has been shifting from acute care hospital services to a post-acute, long term care model for many years. This trend has been largely shaped by the need to correlate level of care intensity with outcomes and cost, as well as an expanding prevalence of chronic conditions. Growth is occurring in all post-acute areas, ranging from inpatient (subacute centers, rehabilitation centers, SNFs, inpatient psychiatric, and chronic care facilities) to residential (assisted living) to outpatient (home health and hospice).
The financial impact and costs related to the expansion of long term care is a significant factor that will shape the health care industry going forward. The number of patients needing post-acute care is expected to jump from 8 million to 27 million by 2060.22 The increasing elderly population requiring chronic care services is driving the demand for long term care services.23
Infection Prevention and Control Regulation24
Inpatient and outpatient post-acute facilities, including SNFs, obtain virtually all of their revenue from Medicare and Medicaid. SNFs must comply with all requirements for participation in these programs and that compliance is evaluated through surveys conducted by surveyors either for CMS or state partner agencies. It is through this survey process that SNFs are being investigated and evaluated for their prevention, detection, and treatment of COVID-19 infections. The most significant regulation SNFs are being evaluated under for COVID-19 is federal tag (F-Tag) 880, which assesses compliance with 42 C.F.R. § 483.80 Infection Control.
This infection control regulation has five significant requirements.
Infection prevention and control program. The facility must establish and maintain an infection prevention and control program (ICPC) designed to provide a safe, sanitary, and comfortable environment and to help prevent the development and transmission of communicable diseases and infections. The ICPC must be reviewed annually and updated by the facility and include, at a minimum, the following four elements:

(a) A system for preventing, identifying, reporting, investigating, and controlling infections and communicable diseases for all residents, staff, volunteers, visitors, and other individuals providing services under a contractual arrangement based upon the facility assessment conducted according to § 483.70(e) and following accepted national standards;
(b) Written standards, policies, and procedures for the program, which must include a system of surveillance designed to identify possible communicable diseases or infections before they can spread to other persons in the facility; when and to whom communicable disease or infections should be reported; standard and transmission-based precautions to be followed to prevent spread of infections; when and how isolation should be used for a resident, including type and duration of the isolation, depending upon the infectious agent or organism involved; and a requirement that the isolation should be the least restrictive possible for the resident under the circumstances. For staff, the circumstances under which the facility must prohibit employees with a communicable disease or infected skin lesions from direct contact with residents or their food; and hand hygiene procedures to be followed by staff involved in direct resident contact.
(c) An antibiotic stewardship program that includes antibiotic use protocols and a system to monitor antibiotic use.
(d) A system for recording incidents identified under the facility's IPCP and the corrective actions taken by the facility.

Infection Preventionist. The facility must designate one or more individual(s) as the infection preventionist(s) (IPs) who are responsible for the facility's IPCP. The IP must have primary professional training in nursing, medical technology, microbiology, epidemiology, or other related field; be qualified by education, training, experience, or certification; work at least part-time at the facility; and have completed specialized training in infection prevention and control.
IP participation on quality assessment and assurance committee. The individual designated as the IP, or at least one of the individuals if there is more than one IP, must be a member of the facility's quality assessment and assurance committee and report to the committee on the IPCP on a regular basis.
Influenza and pneumococcal immunization. The facility must develop policies and procedures to ensure that before offering immunizations, each resident receives education regarding the benefits and potential side effects; the influenza offer takes place annually between October 1 through March 31; the resident has the opportunity to refuse immunizations; and the resident's medical record includes documentation that indicates education was provided and the resident either received the immunizations or did not due to medical contraindications or refusal. There are no COVID-19 vaccination requirements yet.
Linens. Personnel must handle, store, process, and transport linens so as to prevent the spread of infection.
For infection control investigations, a supplemental Infection Prevention, Control, and Immunizations Pathway25 may be utilized. It includes six interrelated infection control standards and regulations (F880-F886). This pathway provides regulatory definitions, investigation guidelines, and links to related federal updates categorized as "All Facilities Letters/QSO Memos." Providers and operators must verify the applicable set of standards in effect at the time of the investigation given the frequent changes and updates that took place in the second half of 2020 due to the pandemic, including new COVID-19 reporting26 and testing27 requirements.
Regulatory Landscape
Infection control citations have been a recurrent issue in SNFs for many years prior to COVID-19. Since November 2017, when the updated electronic CMS SNF survey process began, more than one-third of surveys conducted across the nation have included an F880 Infection Prevention & Control citation and alleged deficient practice. In 2018, the most frequently cited F-Tag in standard nursing facility health inspection surveys under the new survey process was F880.28 As a result, in 2017-2018, federal agencies took a hard look at infection control practices in long term care facilities and decided infection control improvements would be evaluated as a part of the newest survey process update. Based on the findings of those evaluations, as part of CMS' new electronic survey process, facilities were required to have a trained IP by November 2019. Having dedicated personnel devoted to infection control seemed to be a direct way to focus on and combat facility failures in infection control.
After a national state of emergency in response to COVID-19 was declared, CMS issued a memorandum to state survey agencies on March 20, 2020.29 The memo announced key changes to the regulatory landscape for SNFs, including the suspension of routine annual certification surveys, multiple survey processes were reprioritized, and an abbreviated COVID-focused survey process was initiated to directly address the unique issues that the pandemic was creating for the industry. Visitation restrictions also were added to minimize both exposure and spread between residents and the outside community.
On March 30, 2020, CMS issued a series of waivers designed to relieve the surge of COVID-19 patients in hospitals.30 These waivers, which will remain in effect until the expiration of the national emergency declaration, included a suspension of the requirement that certified nurse assistants (CNAs) be certified within four months of hire, broader use of telehealth, flexibility in use of facility rooms or common areas to accommodate isolation needs, and increased use of COVID-19 testing.
CMS also issued in August 2020 an interim final rule that, among other things, established the Long-Term Care (LTC) Facility Testing Requirements for Staff and Residents.31 Specifically, the rule required facilities to test residents and staff, including individuals providing services under arrangements and volunteers, for COVID-19 based on parameters set forth by the Department of Health and Human Services (HHS) Secretary. CMS provided guidance to facilities on how to meet these new requirements and also revised the COVID-19-Focused Survey Tool used by surveyors to assess compliance.32
COVID-19 in SNFs
At any given time, there are countless common infectious organisms both in our environment and in health care institutions that, for the most part, are preventable with standard infection control protocols. However, COVID-19 quickly proved to be vastly different, particularly in the long term care setting. Why did the current health care infection control practices fail with COVID-19? Several theories are discussed below.
COVID-19 is a novel virus and significant medical knowledge did not exist at the time of its initial outbreak. There have been two brief controlled outbreaks of similar zoonotic respiratory coronaviruses: SARS 2003 in China and MERS in 2012 in Saudi Arabia. Both exhibited airborne transmission and had high lethality. The SARS outbreak was controlled by the World Health Organization before it spread globally. The MERS outbreak did reach the United States in 2014, but both infected individuals were isolated before it spread. Unlike those viruses, COVID-19 spread rapidly throughout the country, and the evidence-based medical science did not have any immediate answers. The medical community needed time to study how the virus worked, how it was transmitted, and what its effects were. As a result, potential treatments and mitigation strategies were slow to develop. Even after more was learned about COVID-19's transmission, mitigating the spread of the virus was hampered by the shortage of PPE such as gowns, gloves, and masks for health care providers.
COVID-19 was particularly lethal in the long term care setting. The vulnerability of long term care facilities to respiratory outbreaks, including influenza and other commonly circulating viruses is well recognized.33 Many long term care residents died from the virus prior to even being formally diagnosed with COVID-19. Of all the long term care settings, the fatality rate in SNFs was the highest. Preliminary evidence indicated that the factors of condensed living (roommates, shared bathrooms, and common areas) within the SNF structure; inter-facility transfers of residents with little infection protocol; staff performing multiple jobs resulting in an infection vector between facilities; fewer registered nurses (RNs) on staff; and increased resident age, direct care assistance needs, and concurrent illnesses or co-morbidities all contributed to the lethality in SNFs.
Another challenge was the lack of rapid and reliable tests to diagnose infections, particularly for the kind of mass testing needed in SNFs, as well as insufficient laboratory resources for test processing. In the early days of the pandemic, test turnaround could take as long as several weeks, which not only delayed the ability to diagnose individuals, but also to measure transmission and community infection levels so that other preventative measures could be put into place. Since COVID-19 infections can be asymptomatic yet fully contagious, identifying cases by testing is crucial to controlling the spread.
The ongoing issue of sufficient nursing staff in SNFs also is considered a potential contributing factor for the rapid spread of COVID-19 in these facilities. Under 42 C.F.R. § 483.35(a)(1), a facility must have sufficient nursing staff with the appropriate competencies and skills sets to provide nursing and related services to assure resident safety and attain or maintain the highest practicable physical, mental, and psychosocial well-being of each resident, as determined by resident assessments and individual plans of care and considering the number, acuity, and diagnoses of the facility's resident population in accordance with the facility assessment required at 42 C.F.R. § 483.70(e).34
To meet federal staffing requirements, nursing homes must have an RN on staff at least eight consecutive hours each day and licensed nurse (i.e., RNs and licensed practical nurses/vocational nurses (LPN/LVN) on staff around-the-clock. An HHS Office of Inspector General study published in 2020, which was based on self-reported staffing data to CMS for use in calculating star ratings on Nursing Home Compare (not for enforcement), indicated that 7% of nursing homes reported at least 30 total days in 2018 with staffing levels below one or more of these requirements. Another 7% of nursing homes reported between 16 and 29 days with staffing below required levels in 2018.35 Sufficient nurse staffing has long been proven to correlate with improved resident quality of care and health care outcomes.36 Higher use of RNs is associated with reductions in accidents, injuries, infections, medication errors, and skin breakdown and better maintenance of functional abilities, nutrition, and hydration.37 Sufficient use of nurses' aides also has been linked to a reduction in accidents and infections and to improved resident satisfaction. The effects of adequate nurse staffing are uncontroverted.38
In a SNF, the majority of tasks requiring a licensed nurse can be performed by an LVN. Accordingly, facilities predominantly staff with LVNs. Frequently, the sole facility RN performs admission assessments, administers intravenous medications, then returns to an office to complete administrative functions and paperwork. At the same time, SNF resident acuity continues to rise. Resident needs have become far more complex as acute care hospitals discharge patients earlier to post-acute care. Increasingly there are more and more post-acute residents requiring specialized care who are divided into separate units or entire facilities. SNFs may comprise rehabilitation (usually acute neurologic or orthopedic), subacute (usually tracheostomies and ventilators), and stable psychiatric residents (usually following acute medication management), each with their own specific health requirements. By comparison, an acute care hospital's staff are almost exclusively RNs, each assigned a maximum of six patients, depending on type of unit. Physicians also are required to assess patients and write orders daily. Once that patient is discharged to a SNF, the newly termed resident receives care from one to two LVNs plus nurses' aides for 60-plus residents. Physicians assess residents and write orders once every 30 days. The issue is often raised that this staffing model has not been kept pace with rising resident acuity and needs. Even when a SNF may have sufficient staff members in the facility, the qualifications of those staff members may make a big difference as to how care is provided, and in the context of this article, how quickly and competently a facility can respond to the changing needs for residents in a pandemic.
It is well established that staff in a SNF are operating under a scope of practice that limits what each can do with regard to resident care. These limitations vary from state to state, but they involve issues like scope of assessments performed, the types of treatments that can be given, and in the case of COVID-19, the ability of an LVN or a CNA to effectively and independently address a patient concern or symptom when recognized, versus having to simply report the issue to an RN and then wait for a response to dictate the actions to be taken. In the case of COVID-19, these types of delays may result in increased infections, delays in isolation protocols, and delays in treatments. In addition, given the significant differences in knowledge, skill, and training, including assessment skills, between RNs, LVNs, and CNAs, it is not surprising to see delays and barriers to quick and timely responses to a new virus being introduced into the SNF environment.
Despite limited training, LVNs are frequently assigned to the infection prevention and control program. As discussed above, the requirement that a facility maintain a designated staff member for an infection control program was not implemented until the end of 2019. Typically, the LVN assigned to infection control maintains that role in addition to being the full-time Director of Staff Development (DSD). In long term care, the DSD role is primarily responsible for CNA requirements such as hiring, scheduling, and providing annual in-service training. In practical application, the LVN assigned to infection control often is responsible for maintaining the data entry function for facility infections and antibiotic use. The infection control plan frequently is prepared by a corporate nurse consultant who does not work in the specific facility, delivered to the facility "as is," and integrated verbatim into the facility assessment and operations without being modified for the specific facility. Not surprisingly, the LVN frequently has little knowledge of the infection control plan or underlying principles. Arguably, the combination of less prepared staff compounded by significantly larger workload assignments to LVNs and CNAs accelerated the impact of the new COVID-19 infection in the long term care setting and hampered a more rapid detection, treatment, and prevention protocol from being implemented.
Industry Trends and Recent Development
Based on the catastrophic effects of COVID-19 on the long term care industry in the early months of the pandemic, multiple regulatory requirements were modified in response to both administrative needs and medical discoveries about COVID-19. Two significant areas of focus were on COVID-19 testing for staff and residents, and the processes for inter-facility transfers and readmissions from acute care facilities back into the SNF.
Other proposed recommendations came from the independent Coronavirus Commission on Safety and Quality in Nursing Homes, which was convened in summer 2020 to review and assess the nursing home response to COVID-19.39 The Commission was comprised of industry participants, infectious disease experts, consumer advocates, and other stakeholders.40 CMS announced the Commission's recommendations on September 16, 2020, which focused on best practices and action items in three key areas: protecting patients from COVID-19, strengthening efforts to identify and mitigate COVID-19 transmission and other infectious diseases in nursing homes, and improving compliance with infection control policies.41
In summer 2020, CMS also created a free online detailed and specialized infection control training and educational program (approximately 30 hours of courses) in response to COVID-19 and the newer regulatory facility trained IP requirement.42 Despite the hiatus on routine SNF surveys during the beginning of the pandemic, CMS announced that routine SNF surveys would resume beginning in late fall 2020.
Recent reports show the rollout of COVID-19 vaccines is helping to turn the tide for the nation's elderly population in long term care facilities, with the number of cases and deaths down significantly.43 With the improving metrics, CMS has indicated in updated guidance that nursing home facilities can resume indoor visitation at all times for all residents, regardless of resident or visitor vaccination status, subject to certain limitations.44 CMS also took the opportunity to emphasize that facilities should continue COVID-19 infection control practices, including physical distancing and conducting visits outdoors if possible.
Conclusion
The COVID-19 pandemic has affected all aspects of health care and forced the entire industry to evaluate how care is delivered. Given the factors described in this article, it was perhaps inevitable that the long term care industry, and SNFs specifically, have been particularly susceptible to the devastating effects of COVID-19. The combination of an older and vulnerable population with numerous co-morbidities and living in close quarters was a "perfect storm" that created the opportunity for the virus to enter SNFs and spread rapidly. The old saying is true that the best reason to learn history is to avoid repeating it.
---
---
William "Bill" Hopkins is a Partner in the Health Care Section of Spencer Fane LLP in the Austin office. He focuses his practice on representing and defending health care professionals and health care companies before the State and Federal Government in matters of regulatory compliance, licensure, litigation and enforcement. A significant amount of his representation is comprised of working with post-acute care providers and professionals through licensure and certification matters, the survey process, and defending against enforcement issues or outside litigation threats.
Rochelle Sandell is a Health Facilities Evaluator Nurse with the Los Angeles County Department of Public Health. She specializes in Centers for Medicare & Medicaid Services (CMS) licensure and regulatory compliance of Skilled Nursing Facilities. She is an experienced Registered Nurse and Attorney with experience in multiple areas of the acute and post-acute health care industry. She has an extensive health care clinical background. Previously, Ms. Sandell was a Nurse Evaluator with the California Department of Health Care Services performing Medi-Cal approval for program participation for providers, and Medi-Cal fraud audits and investigations.
---
AHLA thanks the leaders of the Post-Acute and Long Term Services Practice Group for contributing this feature article: Daniel Sternthal, Munsch Hardt Kopf & Harr PC (Chair); Jordan Kearney, Hooper Lundy & Bookman PC (Vice Chair—Educational Programming); Peggy Kozal, Gordon Rees Scully Mansukhani LLP (Vice Chair—Educational Programming); Gabriela Sanchez, Lane Powell PC (Vice Chair—Member Engagement); Ericka Fang, Kaufman Borgeest & Ryan LLP (Vice Chair—Publishing); and William Hopkins, Spencer Fane LLP (Vice Chair—Publishing).
ARTICLE TAGS