Impact Story: Kristen Woodrum
A Lifeline for Career Success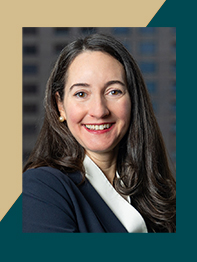 Kristen works as a partner at McGuireWoods LLP, has volunteered as an AHLA speaker, author, and leader, and currently offers her insights and ideas as a program planning committee member. She has been a benefactor of many AHLA leadership opportunities and educational offerings and has enjoyed the collegial environment found at AHLA.
---
I began my professional career in the behavioral health field, working for the largest mental health and addiction provider in the State of West Virginia and the South Carolina State Department of Mental Health. Leading a team and supporting hundreds of individuals diagnosed with serious and persistent mental illness in these roles, I gained invaluable hands-on experience in care delivery and support models, managing teams and crisis intervention, and working with patients, their family members, providers, and community support organizations. These experiences, as well as an internship with an academic medical center, solidified my desire to pursue a career in health law, focusing on the legal, policy, and financial aspects of health care.
I joined McGuireWoods as a partner in the healthcare department in early 2022. I enjoy working with a firm that has a strong health care bench, and appreciate having broad national exposure to what is happening in healthcare. I work with clients across the industry on a range of issues and transactions and I hope to continue having opportunities to structure new models of transactions and affiliations that involve interesting regulatory analysis.
Health care is a complicated, ever-changing system essential to individual and public welfare, and the law continues to play an integral role in improving patient outcomes. It is an honor to help my clients plan strategically for future growth while also working together to improve the consumer experience. I am especially excited to see developments in value-based care, women's health, and behavioral health.
When I joined AHLA as a young associate, I learned what an incredibly collegial organization it is and that what you get out is commensurate with your input. Little did I know that I would be active all these years later, much less hold leadership positions. As a junior attorney in a firm with a small healthcare group, I relied heavily on AHLA as a resource for education and research. AHLA was my lifeline when senior partners gave me cites to the paper Medicare manuals or gave me otherwise confusing instructions, including referring to CMS as HCFA for years after the change. I began practicing just as the key Stark and HIPAA regulations began to drop and it was extremely helpful to draw on perspectives of others navigating the new regulatory landscape.
As a new AHLA member, I was intimidated by speakers and leaders but eventually realized how receptive they were to questions and collaboration. I was accepted into one of the inaugural classes of the Business Law and Governance Practice Group's leadership development program and have worked opposite and alongside many attorneys I met in that practice group. I also joined a small working group that evaluated how AHLA should address behavioral health about ten years ago and based on our group's recommendations, AHLA formed the Behavioral Health Task Force (BHTF), which has since grown into a full-fledged Practice Group. I was later appointed to the program planning committee for the Physicians and Hospitals Law Institute where I've gained an appreciation for the incredible efforts of AHLA in putting on regular programs with consistently high-quality and timely content. These AHLA resources enriched my understanding of health law issues, allowed me to collaborate with knowledgeable people in the field, and helped me become a better and more confident attorney.