Impact Story: Lindsay Holmes
Inspiring Impactful Leaders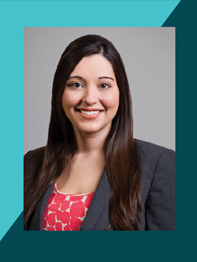 Established in 2010, the Young Professionals Council (YPC) now formally called Early Career Professionals Council (ECPC) offers leadership and networking opportunities for young health law professionals, serves the interest of AHLA's early career professional members, and provides guidance on building a community for the next generations of health law professionals through social media, membership, and networking activities.
Lindsay Holmes (Amazon.com, Inc.) has served as Co-Chair and Chair of the YPC, as the Young Professionals Delegate to the AHLA Board of Directors, and most recently, serves on the AHLA Development and Advancement Council (DAC). Lindsay shares about how her experience with AHLA has furthered her career and inspired her to serve on this Council.
---
I'm excited to join AHLA's integral DAC after experiencing firsthand the impact AHLA can have on a early career professional. Since becoming an active AHLA member in 2015, I've been honored to serve in several volunteer and leadership roles for the Association. In these positions, I've gained invaluable education and resources for my health law practice and countless connections and friendships along the way.
Each year, my colleagues and I look forward to convening for AHLA's Annual Meeting. The Annual Meeting provides an opportunity to catch up with friends that live far away and the space to truly focus on learning. When the meeting was virtual during COVID, it reminded me just how valuable the relationships I have built through this organization are. Unfortunately, I didn't get to see my colleagues in person that year, but I still enjoyed watching many of them present in virtual sessions and engage in lively debates using the chat feature. Though it was not the same, it did make me even more excited to be back in person.
From years of membership and serving in many different roles in AHLA, it has become clear to me that the time and energy you put into AHLA you get back tenfold through unmatched education and camaraderie. The DAC ensures AHLA benefits from a strong, stable, and growing revenue stream to sustain its many programs and initiatives, and it is important to me to further those goals. In joining the DAC, I aim to ensure others have access to the same AHLA resources that I've had. Membership in this organization has made me a better healthcare lawyer and through programs like Annual Meeting, I've made connections that will last a lifetime. I hope to inspire others to reflect on their own experience within AHLA and use it as motivation to learn more about the Association's philanthropic goals and give back.