Annual Report for Fiscal Year 2020
To increase communications and transparency with our membership, the American Health Law Association (AHLA) will begin publishing Annual Reports after the close of each fiscal year (June 1–May 31). Each report will highlight progress in various areas of the Association's strategic plan, showcase key success metrics, and demonstrate the strength and resiliency of AHLA.
For Fiscal Year 2020 (June 1, 2019–May 31, 2020), the report is divided into the following four sections:
We appreciate your review, engagement, and welcome any feedback. Thank you, as always, for entrusting the Board of Directors as the financial stewards of your membership dues.
S. Craig Holden
President (2020-2021)
Shareholder, Baker Donelson, Baltimore, MD
A Look Back
If one theme has emerged for me as President of AHLA, it has been the inevitability of change, and the need for all of us to learn from and adapt to the rapid changes occurring in our industry. As an Association this past year, we have changed our name and logo, created a 2030 Task Force to look at the future of health law and health care in the next decade, implemented a new website and dues model, and came together as a community of health law professionals in countless unforeseen ways as a result of distressing events of racial injustice and the coronavirus pandemic.
As health law professionals, we provide critical support for the health care industry, and the contracts we draft, the deals we close, the cases we handle, and the advice we give are all integral to the successful provision of care. It may not always be easy to see clearly, but never forget that what we do matters and makes a difference in people's lives. And, your association is here to support you every step of the way.
Please take a few moments to review the highlights and successes from this past year. And once again, thank you for the honor of having served as your President.
Robert R. Niccolini
Past President (2019-2020)
Shareholder, Ogletree Deakins, Washington, DC
Fiscal Year 2020 Highlights
Exceptional Content
Delivering exceptional health law information, essential tools, and support for our community's professional development has been and will always be a strategic pillar of AHLA (see AHLA's Strategic Plan for more information). The theme for FY20 focused on coordinated content creation across departments, Practice Groups, and delivery channels. These coordination efforts shed light into hot topics, helped determine which delivery channels worked best for which topics, identified areas that needed additional coverage, and informed how AHLA can work with our dedicated volunteers and staff to better deliver that content to our community in a timely and meaningful way.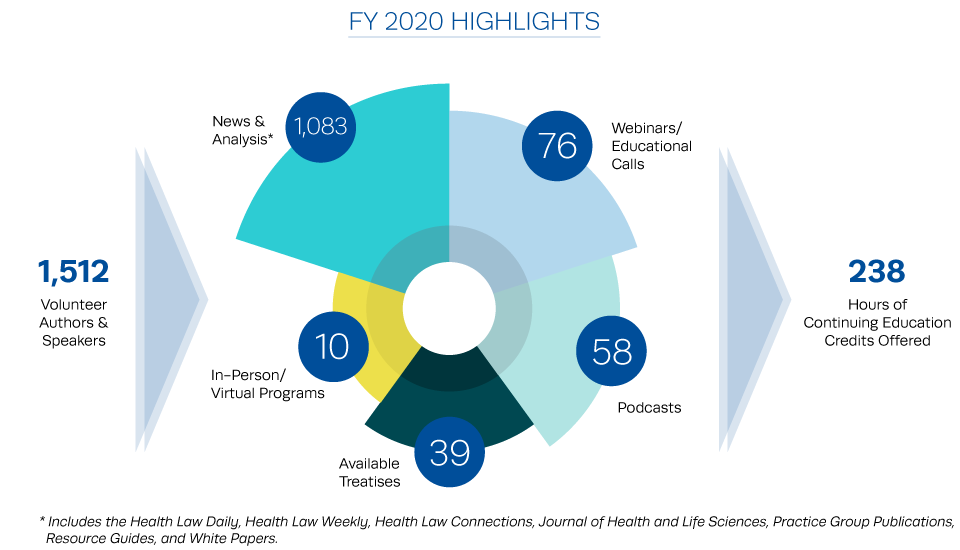 Thank you to our volunteer authors and speakers who share their expertise and experience with AHLA so that we can continue to fulfill our mission and educate and connect the health law community. We are so grateful to have such a talented volunteer pool and look forward to working with more of you in FY21 to expand on our exceptional content.
Engaged Learning Community
As the health law landscape continues to shift, so too does our approach to engaging the health law community. To help aid in this engagement, AHLA rebranded itself in FY20 to better serve our growing and collaborative field of health law professionals. Today's health law industry now encompasses a diverse group of professionals: from health lawyers to compliance officers, health risk managers to paralegals, health information professionals to economists, and so many more. As the health law profession continues to expand, we will continue to engage with all who touch health law.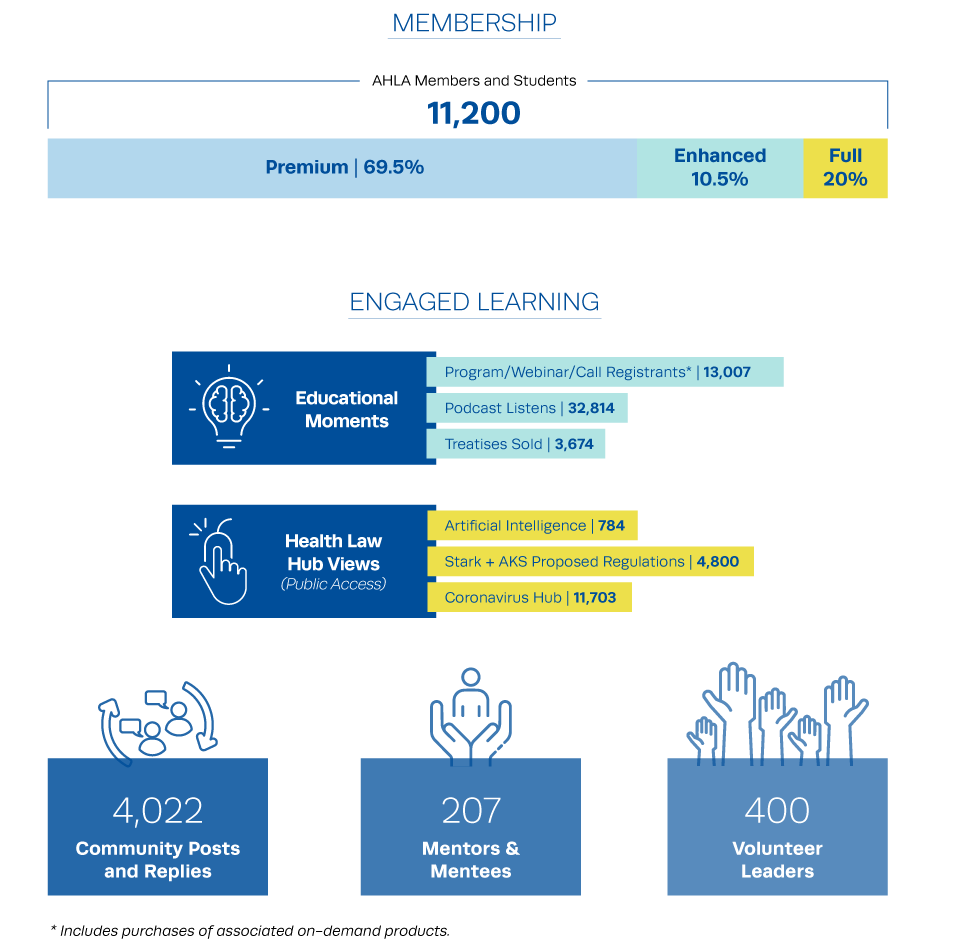 Resilient Organization
No one anticipated the effect that the coronavirus pandemic would have on the United States and around the world, our health care system, and the livelihood of all of us, but AHLA has been poised to respond and support our community, in large part due to the fiscal oversight of past volunteer leaders who crafted sound financial policies and built our reserves to weather any type of disruption. And it is with that in mind, the need to be here for our community, that we continue to build AHLA into a resilient organization.
Last year we upgraded our IT infrastructure to allow staff the capability to work remotely (set into motion well ahead of the pandemic), migrated to a new website, enhanced our database and member portal, and launched a new membership model that offers a more personalized membership experience, allowing members to choose a membership level that fits their educational needs and professional goals. At the same time, we expanded partnerships with other health law related organizations, found new ways to engage and highlight thought leader organizations that support the changing landscape of health law, brought new donors into the fold who want to support diversity and inclusion, the talent pipeline, and innovative professional development, and continued to help resolve disputes within the health care industry.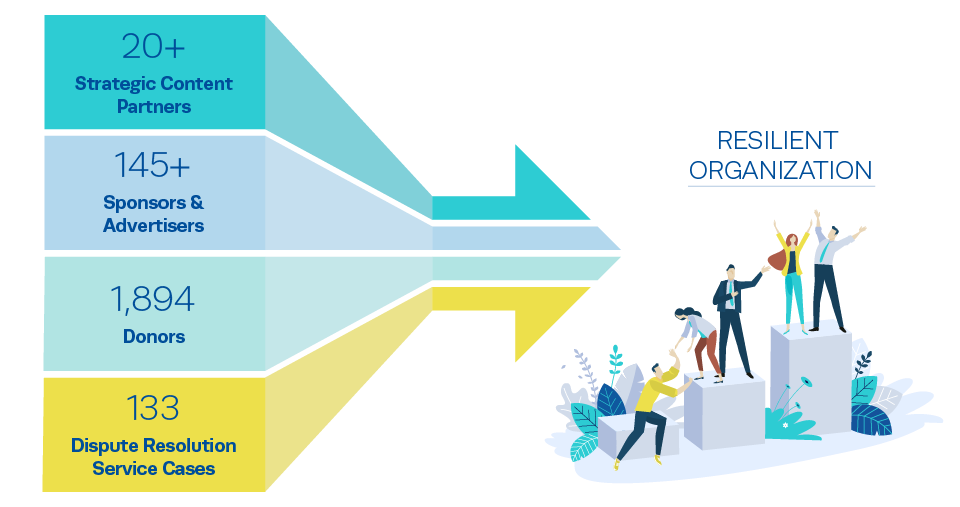 Thank you to our sponsors, advertisers, partners, clients, and donors for your investment in AHLA and in the future of health law. Together, we will come out of this pandemic a stronger, more unified community, with the shared goal of better health outcomes for all.
Fiscal Year 2020 Draft-Unaudited Financials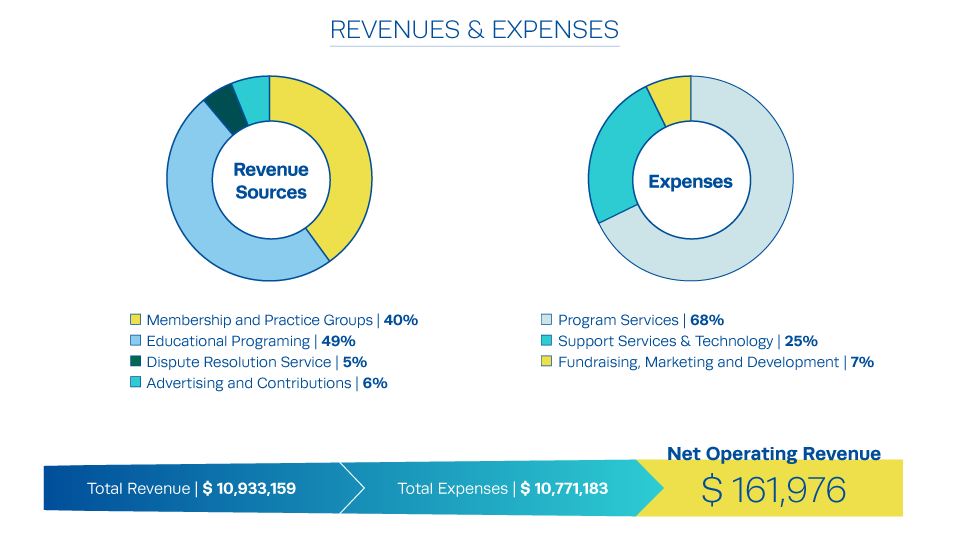 For a copy of AHLA's full audited financials (available December 2020), please contact us.
A Look Ahead

As our new fiscal year began in June, our nation was experiencing a call to address systemic social and racial problems that have festered in this country for centuries, and in the middle of a pandemic that disproportionally affected those calling for that change. What is demonstrated by persuasive pressure is that change happens when people give voice to what needs to change. Mr. Floyd's murder focused immediate attention on police reform. It brought to light again how racism is perpetuated by stereotypes and that the cries for change, united with economic pressure, prompted discussions and reforms many thought would never happen.
We, as an association, must not lose sight of and remain committed to advancing diversity, equity, and inclusion (DEI) within our association and the broader health law community. Although we continue to grapple with the pandemic and adjusting to a virtual educational footprint, AHLA will continue to focus on moving initiatives forward that advance our DEI efforts and will continue to look for additional ways this year to bring our community together and do our part in the fight to end systematic racism, injustice, and inequality and to expand on issues related to health disparities the pandemic has focused a spotlight on that we cannot ignore.
We will also look to the future, 2030 and beyond, to help our community understand the disruption that is coming to the health care and health law industries and how, as a community, we can lead this change.
It has been a trying start to our new fiscal year, but I know that together, we will come out stronger as a community and we will thrive. I look forward to engaging with you this year, to expand our reach, our content, our leadership, and the authority our community has on improving health outcomes.
David S. Cade
Executive Vice President/Chief Executive Officer
American Health Law Association, Washington, DC
Learn More About AHLA
Learn More About Membership
For more information on the benefits of joining AHLA, please see our Membership Benefits and Pricing page.