Annual Report for Fiscal Year 2021
Fiscal Year 2021 Highlights
Exceptional Content
As our new fiscal year began in June, our nation faced a call to address systemic social and racial inequities while in the midst of a historic pandemic that disproportionally affected communities most impacted by those inequalities. AHLA responded to the dual calls for action by producing educational content needed by our members to navigate the continuous stream of new laws and regulations issued to address COVID-19, while at the same time supporting our community in inclusion, diversity, equity, and accessibility (IDEA) efforts; this was not an either-or scenario, our membership demanded and deserved both, and AHLA was positioned to lead in both areas.
Even though in-person programming stopped abruptly in March 2020, AHLA produced 40% more programs in FY21, adapting our high-quality content to virtual delivery. News and analysis articles increased over 195%, podcasts by 58%, treatises by 12%, and webinars and educational calls by 30%. In total, AHLA produced close to 80% more continuing education than the previous year, an unprecedented increase for AHLA.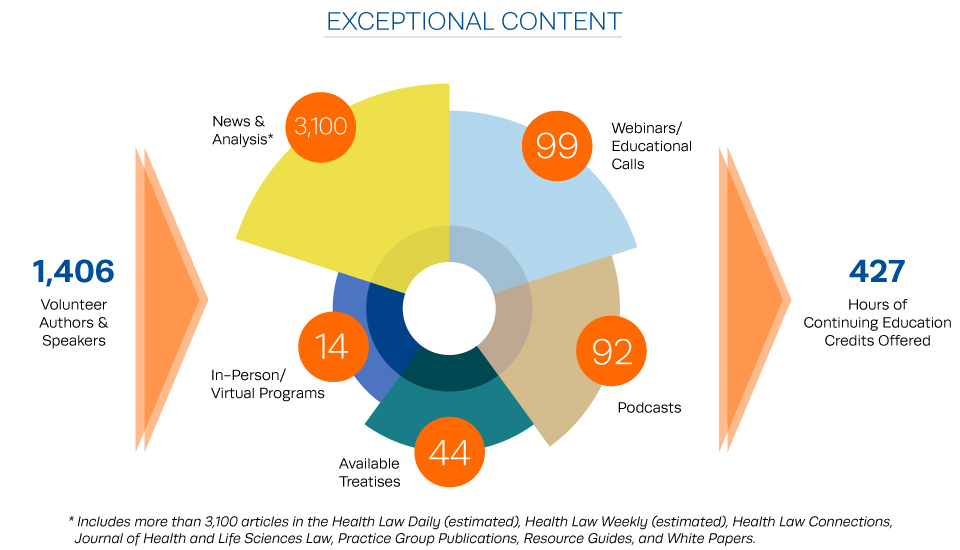 These numbers demonstrate that we can continue to produce exceptional content in traditional health law areas while addressing emerging topics like COVID-19 and IDEA education, ensuring our membership is always up to date on the latest issues that affect our industry and the communities we serve. And we could not do it without our dedicated volunteer authors and speakers, lending us their expertise and experience to educate our membership and the greater health law community—thank you for your leadership in a very challenging year!
Engaged Learning Community
A full year into AHLA's rebrand and membership model overhaul, we are generally seeing higher levels of engagement as we invite all health law professionals to the table to address the challenges we face as a collective, understanding the interconnectivity between the roles of health lawyers, compliance officers, health risk managers, health information professionals, paralegals, economists, and so many more who touch health law.
A majority of the increase in membership for FY21 came from the next generation of health law professionals, a focused strategy adopted as part of the new membership model, which led to a very active and engaged Young Professionals Council. Additionally, AHLA's Member Concierge Program, a program that provides tailored support and services to organizations that have 25 or more members, has gown to 38 organizations, representing close to a third of AHLA's membership.
With more AHLA members, coupled with higher educational output, AHLA increased educational moments by over 45% in FY21. Additionally, the Navigating Health Law Disruption video series garnered over 154,043 views and won a Silver EXCEL Award from AM&P Network Associations Council. This series was based on the work of the 2030 Task Force and its Health Law Disruption: 2030 and Beyond white paper, providing a look to the future in preparation for anticipated disruption to both the health care and health law industries.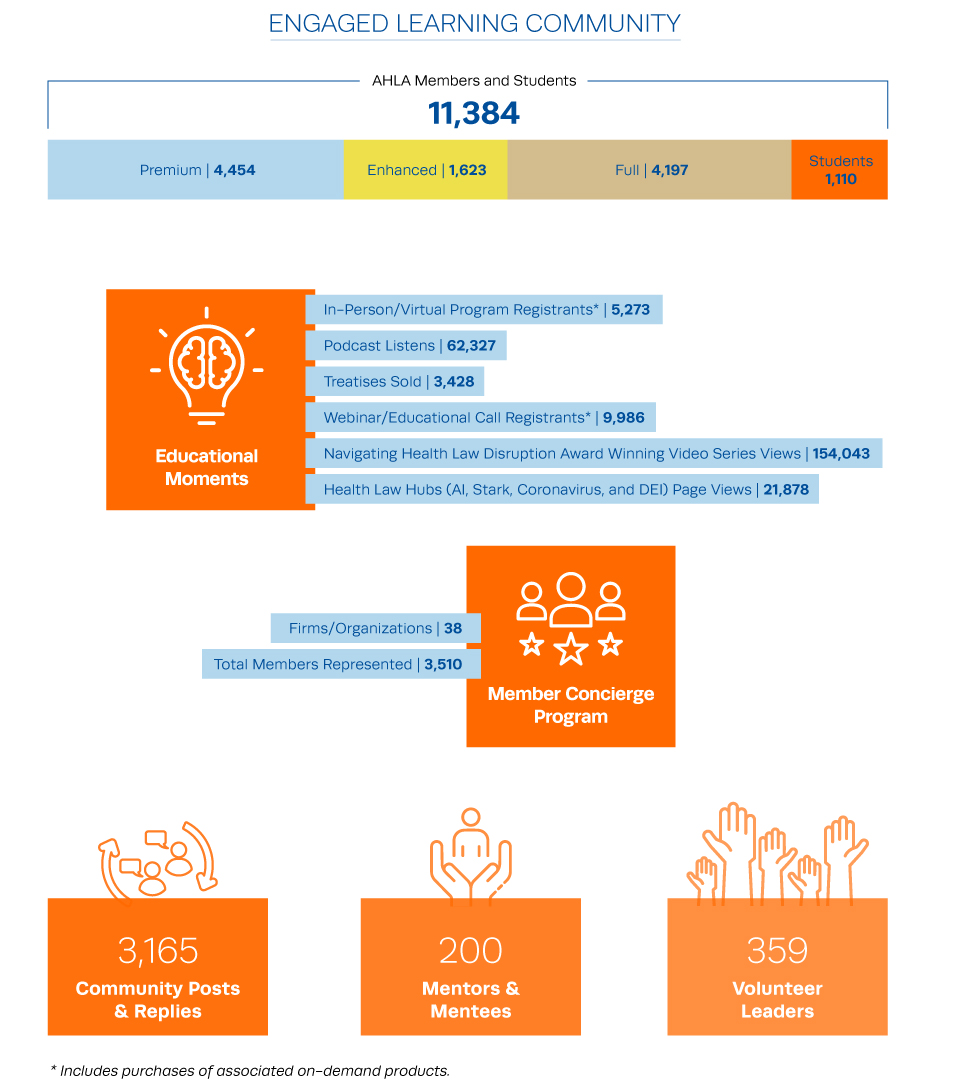 Resilient Organization
Due to fiscally responsible AHLA Boards of the past and present, who crafted sound financial policies and built AHLA's reserves to weather any type of disruption, AHLA was poised to respond and support the health law community during one of the most challenging times for our country. We were able to program more educational content and increase overall engagement while we saw peer organizations go through layoffs, reorganizations, shrink their educational footprint, and watch membership and attendee numbers plummet. AHLA and its membership have shown resilience, strength through adversity, and demonstrated our ability to lead in these troubling times. And we did not do this alone.
Thanks to both new and renewed strategic content partnerships, our high-quality education reached new audiences and welcomed new segments into AHLA. Our sponsors and advertisers showed flexibility and loyalty in the shift to virtual programming, finding new and creative ways to reach our target audiences, while ensuring continued financial support for AHLA. Our revised case for support and investment in the future of health law resonated with donors, leading to higher average donations than in years past. And our Dispute Resolution Service helped resolve 24% more cases, allowing the industry to get back to the most important task at hand, improving health outcomes for all.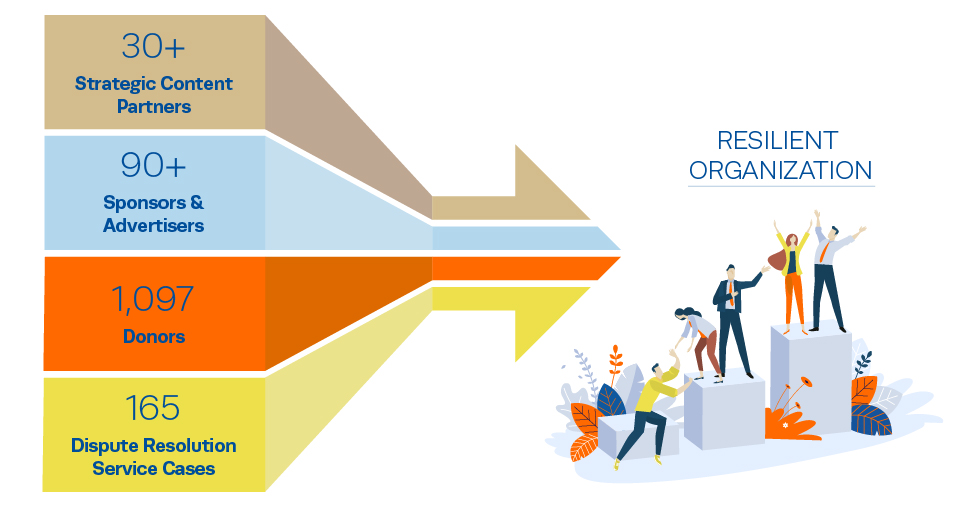 Thank you to our sponsors, advertisers, partners, clients, and donors for your continued investment in AHLA. We are a stronger community with a shared goal of educating and connecting the health law community.
Fiscal Year 2021 Financials
As AHLA's Senior Team and Board of Directors finalized the FY21 budget in the spring of 2020, lock downs swept the nation, conferences were canceled, and everyone began to work from home. We understood the challenges that faced AHLA financially and therefore developed several contingency budgets, each one more conservative than the next. Finally, the Board of Directors adopted a deficit budget of -$2.1M, relying on AHLA's robust reserves to help us through the pandemic in order to provide the same level of education and service our members have come to expect. And through increased engagement, cost reduction measures, and a diversified revenue stream, AHLA was able to reduce the budgeted deficit by over 35%.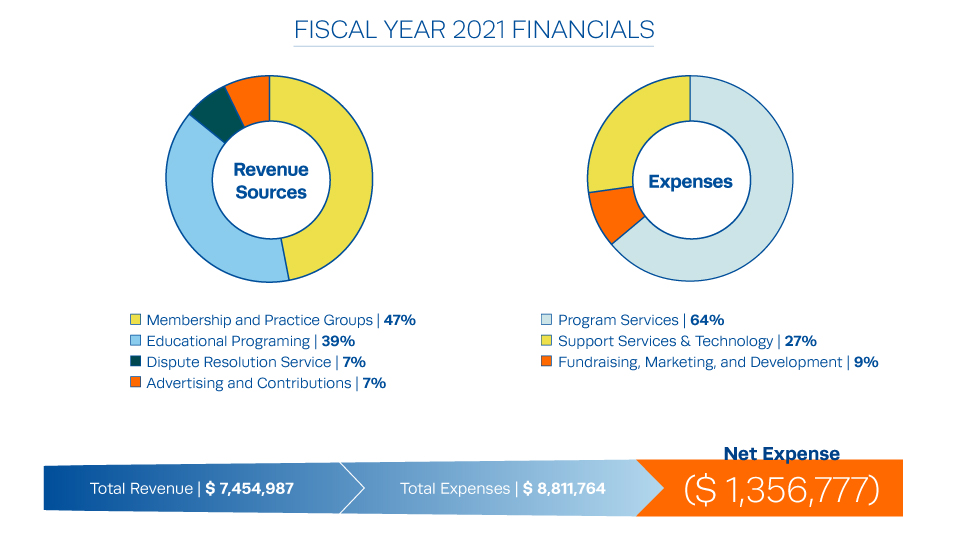 For additional financial information, please see AHLA's full audited financials. If you have any questions about the audited financials, please contact us.
A Look Ahead
As our new fiscal year began in June 2021, our nation was hopeful that we were on the verge of returning to a new normal, that the pandemic may soon be a thing of the past, and that progress was being made regarding racial and social injustice. After a tumultuous year, we braced for the possibility that our country and our Association was on the path towards recovery and revitalization.
However, we were left contemplating… What lessons did we learn? How has educational delivery changed? What resources would our membership need now? Have we moved the needle on inclusion, diversity, equity, and accessibility within AHLA? Have we been a leading voice in addressing health inequities? How can we continue to best serve our membership as we rebuild and revitalize our organization?
Throughout this fiscal year our Board of Directors, leaders, volunteers, and membership have approached these questions and taken action to address them. You have read in this report the impressive results yielded through AHLA's thoughtful pondering of these questions, but more importantly, you have seen the ever-timely educational resources AHLA has provided to a health law community in need of advice and support during an unprecedented year of ups and downs.
And we will continue to be this steadfast companion for our industry by creating resources health law professionals need and providing space for those seeking guidance and community. We will lead through example, upholding our values of inclusion, diversity, equity, and accessibility, and weaving them through every facet of our organization. We will strive to be better and when we have met our goals, we will work with our membership to create new ones.
There has not been a year, thus far in my tenure, that has brought me such pride in AHLA's progress. I have witnessed over and over leaders within the Association drop all pretenses and pride and ask the question, "How can we be better?"
As we look ahead into this fiscal year, let us bring this mindset with us. Let us approach the challenges as opportunities and those opportunities as a collective. In a few short months, we have already made impressive progress, like launching our inaugural Health Law Week, returning to in-person programming, revising our nominating procedures, and crafting an IDEA Action Plan. I look forward to engaging with you this year to grow our reach, reimagine our content, elevate our leadership, and seek out new ways of improving health outcomes for all.
David S. Cade
Executive Vice President/Chief Executive Officer
American Health Law Association, Washington, DC
AHLA Annual Report Town Hall
A review AHLA's Fiscal Year 2021 Annual Report, member survey results on Inclusion, Diversity, Equity, and Accessibility (IDEA), and our IDEA Action Plan.
Learn More About AHLA
Learn More About Membership
For more information on the benefits of joining AHLA, please see our Membership Benefits and Pricing page.