Frequently Asked Questions - Rebranding
Why change the AHLA brand now?
As part of AHLA's strategic planning process and to ensure the long-term prosperity of the Association, the Board of Directors and staff regularly review how best to position AHLA for the future in the face of a rapidly changing health law environment. This process includes environmental scans, personal outreach, and market research (surveys, interviews, and focus groups).
As the Board of Directors looked at the landscape and available data, several things became apparent:
Ensuring the ongoing vitality of the organization will require maintaining a vibrant pipeline of new and energetic health law professional members due to a number of AHLA's current members set to retire from practice in the next five to 10 years.
Our incoming members have told us that they want the opportunity to expand their networking beyond attorneys to all professionals in the health law field.
The health law educational landscape is shifting as numerous law schools have created Master of Jurisprudence or other similar degree programs in health law. Graduates of these programs will not have a JD and cannot sit for the bar but are expected to perform some functions previously performed by health lawyers.
Our survey data and other anecdotal information suggest that at least some health law professionals perceive the current name as a barrier to their involvement in AHLA.
Based on this information, the Board of Directors concluded that changing our name to the American Health Law Association would be in the best long-term interest of AHLA. It is a subtle change that broadens the "tent" to welcome and connect all health law professionals while maintaining the AHLA brand that is so important to our loyal attorney members.
How will AHLA retain the professional identity within the new brand for those health lawyers who value that?
AHLA will continue to provide health lawyers the resources and networking opportunities that have made AHLA their home for over 50 years.
Members look to AHLA for high quality health law education and content – this will not change. To the contrary, our high-quality content will continue to be one of our main selling points to health law professionals who are not yet members, and we intend to make cutting edge content generation and quality control fundamental tenets of strategic planning as we move forward.
We anticipate that health lawyers will remain our core constituency for the foreseeable future and will continue to focus on all the needs of our health lawyer constituency, even as we expand our outreach to other health law professionals to ensure the continued growth and vibrancy of the Association.
What was the goal with the rebrand?
To develop a new direction for the renamed American Health Law Association brand that feels like a community for the health law professional–striking a balance between informative and welcoming.
We see the new brand as the look, feel and sound of a meeting place built on institutional knowledge, industry best practices, professional education, and open minds.
For the brand tone, we're looking to be more Accessible than Exclusive, strike a balance between traditional and modern, and be more welcoming.
For the brand personality, words like community, educational, collaborative, diversity, welcoming, modern, and professional network continued to pop up from our research.
I don't see health or law represented in the new logo, am I missing something?
No, we really wanted to strip down representational forms within the mark. This mark is more about feeling and identification.
If you see any representative shapes its really:
An oval in the bottom right hand corner, we started here to help shape the letterforms, to build a foundation of inclusivity, welcomeness and warmth (these feelings are commonly represented by softer- rounder shapes). The curved shapes could be seen a subtle nod to the scales of justice.
A bold uppercase "H" and "L," emphasizing the first letters in the words "health" and "law" relays our commitment to the entire health law industry and its many stakeholders.
The logo combines strong, upward columns with softly curving lines that reach inward and mirror each other, not unlike the bridge between the health and law sectors that embodies the work we do at AHLA.
The stems of the H and the L are designed to reference column architecture, and stability and again bridging – specifically the bridging between health and law.
The colors remind us of health.
Why is AHLA moving away from the red, black, grey, and white color palette?
We selected the new colors because we wanted something more welcoming, inclusive, and intergenerational.
The red of the former logo was a little harsh and it doesn't expand in the way the new palette can.
We chose clean and crisp colors because they hit the right professional tone – and we can punch it up with lively colors in our secondary palette. And, we selected an overall palette that lives in the same tonal zone as the health care industry, yet still contrasts enough to feel energetic and vibrant, including the blues you see in the logo.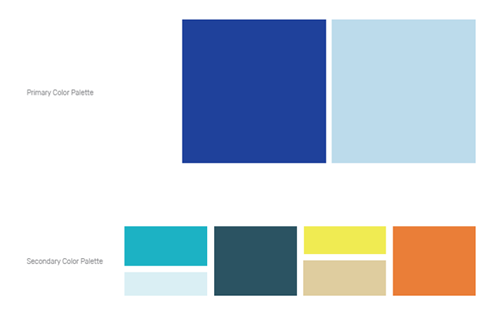 I thought AHLA already had a tagline, did the organization need another one?
Yes and yes. We have had product level taglines for some time, examples include:
Learn. Network. Engage. - this is used in marketing our programs.
Fast. Fair. Final. - this is used in marketing our Dispute Resolution Service.
However, we did not have a broader tagline that encompassed all that we do. Educating and Connecting the Health Law Community speaks to the heart of AHLA's mission in easily identifiable and relatable terms - you immediately know who AHLA serves and what we do for them.
How do we refer to AHLA going forward, just as HL?
No. We are still AHLA and it is appropriate to refer to the American Health Law Association as AHLA. The HL in the logo is simply a graphical icon to reinforce the Health and Law in the new name and the bridging between. You may see our full name written out more to reinforce the name change and you may see the HL graphical icon separate from the name, but we are still AHLA.
Are staff emails addresses changing too? Will my emails get lost in the transition?
Staff's emails will be changing to @americanhealthlaw.org beginning March 17, 2020. But, don't worry! Any email sent to an @healthlawyers.org email address will be routed to the appropriate box. When staff reply, it will come from an @americanhealthlaw.org account but there should be no disruption in email communication with this transition.
Why didn't AHLA use healthlaw.org or some other variation?
We did a scan of domains that are currently in use as well as those that were available for purchase. Unfortunately, healthlaw.org and variations like health-law.org were already secured and have been in use by organizations for some time. We then settled on americanhealthlaw.org that helps reinforce the name change and our dedication to American health law.
I didn't receive the brochure mailed to my office, can I download a copy to review?
Of course. We have the full brochure available as well as the pertinent pages too.